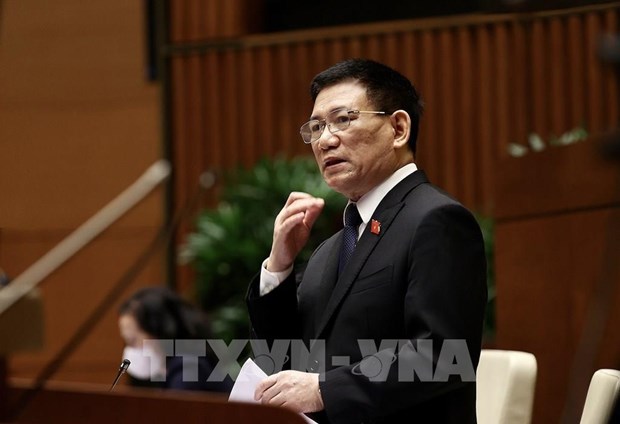 Finance Minister Ho Duc Phoc (Photo: VNA)
Answering reporters' queries about the State budget situation amid the pandemic at present, Phoc said following the Prime Minister's directions, ministries, agencies and localities saved at least half of the cost of conferences and working trips at home and abroad, and 10 percent of other regular expenditures this year to supplement financial resources for the COVID-19 fight and other necessary tasks.
So far, about 14.62 trillion VND (635 million USD) from regular expenditures have been saved.
The Finance Ministry suggested the PM submit a proposal to the NA Standing Committee on using the saved sum to add to the central budget reserve fund 2021 and provide for ministries, agencies and localities to fight the pandemic in the most effective manner.
According to him, up to 21.4 trillion VND from the State budget has been used for anti-pandemic efforts. Meanwhile, the national COVID-19 vaccine fund has raised nearly 8.7 trillion VND.
The ministry also proposed measures to support firms such as extending deadlines for payment of added value, corporate and individual income taxes, and land lease this year; reducing telecom and electricity bills, bank interest rates, and environment protection taxes. It also suggested the Government issue the aid package worth 26 trillion VND for employers and employees who meet difficulties amid the pandemic.
Phoc added that the ministry will continue recommending measures to the Government and the legislature to increase budget saving, as well as ensure spendings for pandemic combat and social welfare for residents, contributing to rapid economic recovery and development./.
Source: VNA