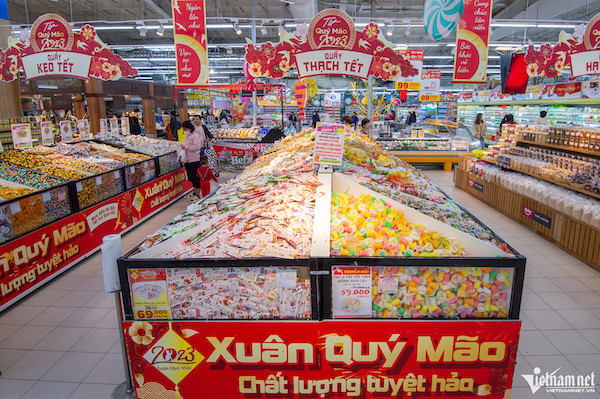 Speaking before delegates attending the fifth Vietnam Economic Forum late last week, the Prime Minister did not use the word 'cautious' when talking about the view of monetary policy. Instead, he said: "Monetary policy needs to be firm, flexible and effective."
Explaining why he did not use the word 'cautious' which had been used for monetary policy regulation for more than a decade, the Prime Minister said: "Previously we needed to be 'cautious' because we were wary of high inflation. But now, the inflation rate is just 3 percent as of November. We can control inflation now."
The government was instructed to find a balancing point between growth and inflation. "The economy is developing, so our choice is inclining towards growth and we can 'sacrifice' inflation by a little," he said.
This balance is a principle of management, he says, adding that State Bank of Vietnam needs to do this.
The balancing point has been mentioned by the Prime Minister many times, especially in late 2022. On December 6, at the government meeting on regulating fiscal and monetary policies, and the macro economy in late 2022 and early 2023, he asked the State Bank of Vietnam (SBV) to ensure liquidity and stabilize the banking system in a safe way.
He asked them to find the balancing point between exchange rate and interest rate, between inflation rate control and growth acceleration.
Before this meeting, the credit growth limit was lifted a couple of weeks before the end of the year.
The new credit room is difficult to bring into play, especially when the economy and enterprises have become exhausted after a long period of lockdown.
In 2022, over 12,000 enterprises left the market each month, which shows difficulties that Vietnamese enterprises are facing.
A survey conducted by the Vietnam Confederation of Commerce and Industry (VCCI) in HCM City and some southern provinces found that only 9 percent of enterprises had numbers of orders up, 68 percent with numbers of orders down and 23 percent not sure about business situations in the coming time.
Vietnam's inflation rate was 3.3 percent in January-November 2022 and it will surely be below 4 percent for the whole year. GDP of 2022 is estimated at 8 percent, while the interest rate is 10 percent.
Luong Bang