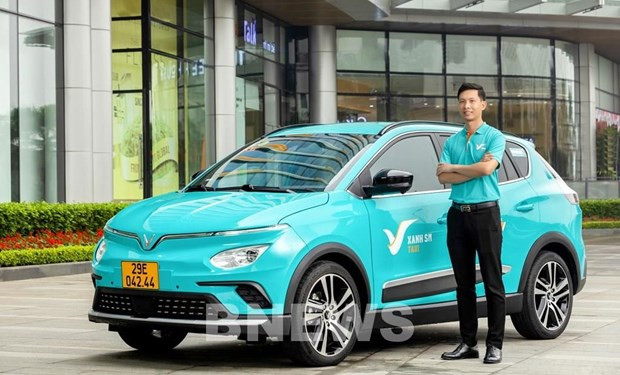 A car and driver of the electric taxi service. (Photo: VNA)
All EVs in GSM's fleet are produced by VinFast, a member of the Vietnamese conglomerate Vingroup.
The firm provides two kinds of service, the standard GreenCar using VinFast VF e34 model, and the high-end s LuxuryCar using VinFast VF 8.
Initially, GSM's EV fleet comprises 500 VF e34 cars and 100 VF 8 cars in Hanoi. In the future, it will add VinFast VF 5 Plus model to its GreenCar fleet.
Addressing the launching ceremony, Nguyen Manh Quyen, Vice Chairman of the People's Committee of Hanoi, said that taxi service using EVs is one of the advanced solutions that are expected to benefit the community, contribute to reducing air and noise pollution, while saving energy and reducing costs for users.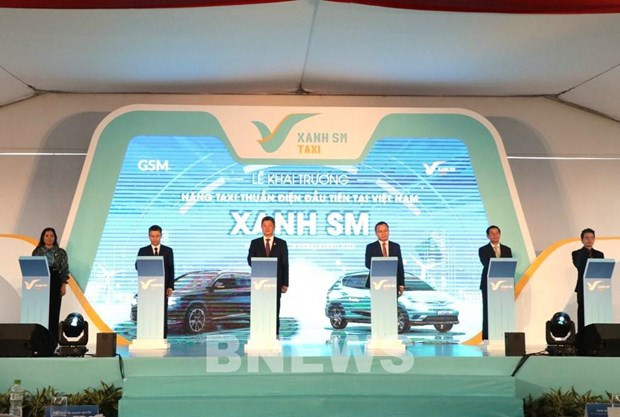 The launch of the the electric taxi service in Hanoi on April 14 (Photo: VNA)
The launching of the service demonstrates the city's determination to join hands with local firms in promoting sustainable transport and contributing to realising Vietnam's commitments to reduce greenhouse gas emissions.
GSM General Director Nguyen Van Thanh highlighted the firm's interest in contributing to the country's climate change response efforts by reducing emissions from transportation vehicles. He said that the firm aims to form a green-smart travel ecosystem across Vietnam.
From April 14, customers can order Xanh SM taxi via its hotline at 19002088 or the Xanh SM taxi application that is available on the App Store and Google Play Store.
From May, customers can call Xanh SM taxi through the BeVinFast service on the multi-service consumer platform Be.
As scheduled, GSM will launch its taxi services in Ho Chi Minh City also in April and will expand to at least five cities and provinces within this year./.VNA