First ever children's book festival in Hanoi
VietNamNet Bridge – Thousands of children and parents attended the first ever children's book festival which opened on June 1 in Ha Noi's Temple of Literature, the country's first university.
VietNamNet Bridge – Thousands of children and parents attended the first ever children's book festival which opened on June 1 in Ha Noi's Temple of Literature, the country's first university.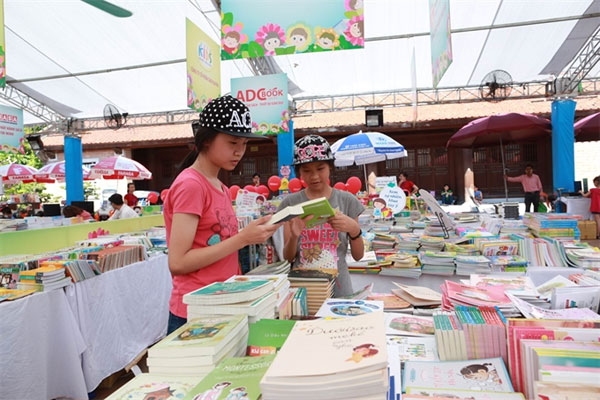 Page turners: Children read books at the Temple of Literature.
The four-day event, organised by the Ha Noi People's Committee to celebrate International Children's Day, offers young audiences the opportunity to enjoy a variety of interesting books and meet with several talented authors.
The festival, which continues until June 5, aims to foster a fondness for learning in children, inspire a love for reading and teach respect towards parents and teachers.
The children have the opportunity to visit 40 stands displaying a wide variety of books, from history to science. They can also meet with several authors whose books have met with success among children, including Tran Dang Khoa, and Ho Thi Hai Au.
Besides taking part in story telling contests, they can also attend a photo exhibition featuring the life and work of President Ho Chi Minh, through books being published by Kim Dong publishing house, learn what it was like for children during wartime, and discover the country's history through various photos on display at the festival.
When he was still alive, President Ho always encouraged citizens to keep up the habit of reading. For him, books are restorative in nature and it's precious to be able to read books often.
"Books have always played a very important role in our life. I want to call upon everybody, in particular children to spend time reading books every day, at least 10 minutes each day, in order to enlarge their knowledge, develop their skills, broaden their mind, and become a good citizen in the future," said Ngo Van Quy, deputy chairman of the People's Committee of Ha Noi, at the opening ceremony of the event.
"I hope that with their love of reading, the children can also encourage others to read books, present to the people around them the good books and transmit their reading passion to other people," he added.
He also reminded children to help less fortunate friends by offering them the books that they've read and liked.
After the opening ceremony, the children could buy discounted books at the book stands. The organising committee put on an air-conditioned room for reading in the Temple of Literature itself.
On this occasion, the organising committee launched a writing contest to look for 32 ambassadors of reading culture, living in Ha Noi. Students in primary and secondary schools in the capital can take part in the contest by writing in Vietnamese or in English on the topic of their favourite books.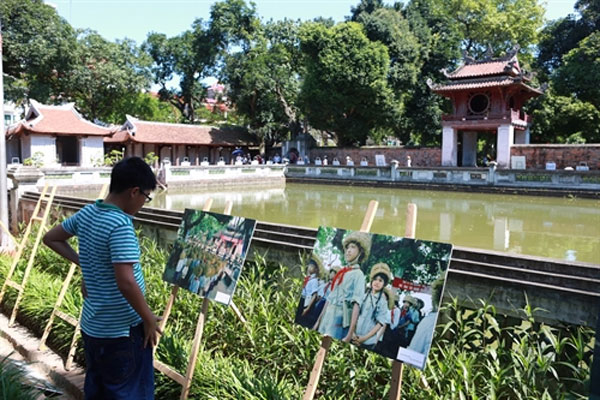 Slice of history: A child looks at photos on display at the book festival, featuring the life of children during wartime, at the Temple of Literature. — Photos: Truong Vi
Yesterday evening, a new picture book entitled Qua Cho Con (A Gift for Children) which aims to teach moral lessons was launched to the public. Author Nguyen Huy Hoang, 40, says the book delivers 100 lessons through 100 poems to teach children in a gentle and memorable way.
"Through the poems, children learn to live well, love their country and family, and practice soft skills," said deputy minister of Culture Vuong Duy Biên.
Tan Viet Book Company, which published this book, leased the copyright of the book for five years at VND550 million (US$25,000).
Previously, to encourage reading habits in local people, several other book festivals have been held in Ha Noi for both children and adults, including the Ha Noi Spring Book Street in February and the Book Festival in April.
Lack of interesting books for children
This first ever children's book festival in Ha Noi has been highly praised for presenting children new and interesting books, following complaints from parents about the lack of reading material available to their children.
Nguyen Thanh Mai, a bank employee who lives in Hoang Mai District, said that it took her lot of time to find a suitable book for her 7 year-old daughter, even though libraries offer a wide range of well-designed books.
Many publishing houses have attempted to introduce international books to Viet Nam. Besides many books which have good contents and are well-translated, others are not suitable to the traditional culture of Viet Nam. With the pressure of selling more and more books for profit, some publishing houses have been hurrying the publishing of books without proper quality control.
VNS