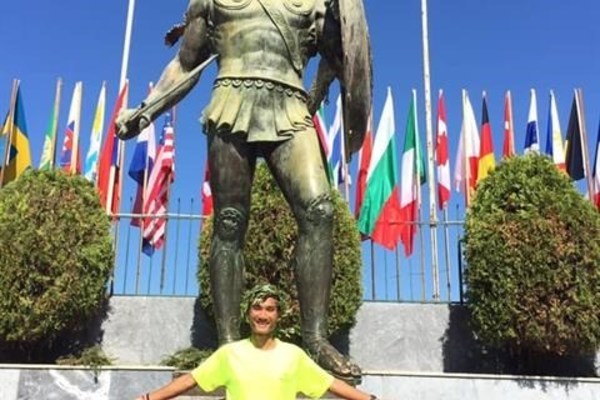 Tran Duy Quang celebrates with his national flag at the 246.8km Spartathlon in Athens, Greece, over the weekend. (Photo courtesy of Tran Duy Quang)
The event is an ultra-distance foot race that takes place in September every year in Greece. It is one of the most difficult and satisfying ultra-distance races in the world because of its unique history and background.
Quang was the only Vietnamese representative out of 376 athletes running in the event.
He overcame many outstanding athletes to rank 40th with a time of 31:10.37.
Tamás Bódis from Hungary finished first with a time of 26:29.24. The runners-up were Zoltan Csecsei, also from Hungary, with a time of 27:16.59, and Brunner Radek of the Czech Republic with a time of 27:26.20.
The tournament follows the footsteps of Pheidippides, an ancient Athenian long distance runner, who in 490 BC, before the battle of Marathon, was sent to Sparta to seek help in the war between the Greeks and the Persians. According to ancient Greek historian Herodotus, Pheidippides arrived in Sparta the day after his departure from Athens.
Quang, 30, was the first Vietnamese runner to win the Vietnam Mountain Marathon over 100km in Sa Pa, Lao Cai province, which is one of the largest ultra-running events in Asia and a landmark event in Southeast Asia./. VNA