Foreign artists show concern about wildlife protection through art

Through colourful murals of elephants, rhinos and pangolins, international and local artists expressed their concerns about wildlife protection.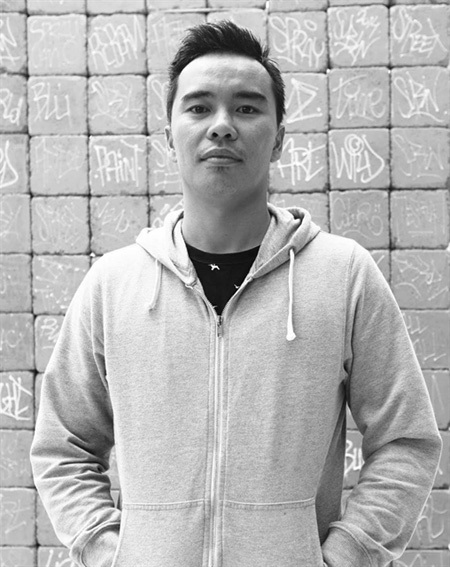 Trang Suby from Paris is the main artist of the project. — Photo courtesy of the artist

The project Wildlife Street Art Bus Tour was held by the Centre of Hands-on Actions and Networking for Growth and Environment (CHANGE), WildAid and Dutch global paints and coatings company Akzo Nobel. The bus brought the artists to eight cities from May 6 to June 27 this year.
Various artists took part in this project, including Trang Suby, Nguyen Hoang Hiep, An Chea, Lukas Harrer, Lee Wessels and Jack Clayton. They were joined by cameraman Brice Godard and photographer Dang Vinh Quang. On the way, many volunteers and members of the local Youth Union used colours to send messages of wildlife conservation.
They came to Mong Cai, Ha Long (Quang Ninh Province), Vinh (Nghe An Province), Hue (Thua Thien-Hue Province), Nha Trang (Khanh Hoa Province), Da Nang, HCM City and Ca Mau City. The murals were painted on the walls of schools, offices and public areas that are visible to many people.
French-Vietnamese artist Suby worked as the main artist in this project. He has been working with CHANGE on other environmental projects in which he painted murals in big cities. This time he wanted to change and bring the message to more people in remote areas.
"So I proposed to do a bus tour where we can meet people from smaller cities, then CHANGE accepted it and decided to take it to places where illegal trafficking usually occurs," he said.
"The tour targeted to reach out to people from the provinces who have less information on this matter."
On the way, they met locals, set up the wall, then painted in the day, so they had a chance to talk to the people and volunteers about what they were doing.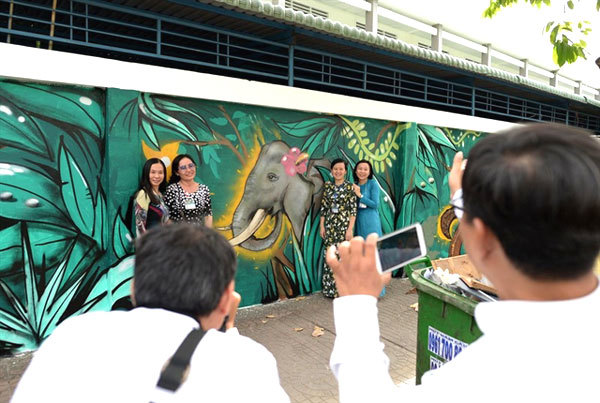 The mural has become a hotspot for photos. — Photo courtesy of CHANGE

"The whole tour was memorable because I visited places I have never been to, we met great people, we were surprised that so many people were concerned but didn't know how to help out," said Suby.
Many elephants are killed for ivory and pangolins are hunted for their skin and meat. Due to outdated beliefs that rhino horns can cure illnesses, the illegal trafficking of wildlife products to Vietnam is an urgent problem.
"We see that the young generation stands against this trade, so it's good for the future, we can end this problem," he said.
Suby invited his friend Lee Wessels from the Netherlands to partake in this meaningful project. They have known each other from painting graffiti and have held many exhibitions, and held many events together.
Wessels designed a child-friendly mural for the school walls in Da Nang, with the hope of seeing the surprise and wonder of the children's faces after school.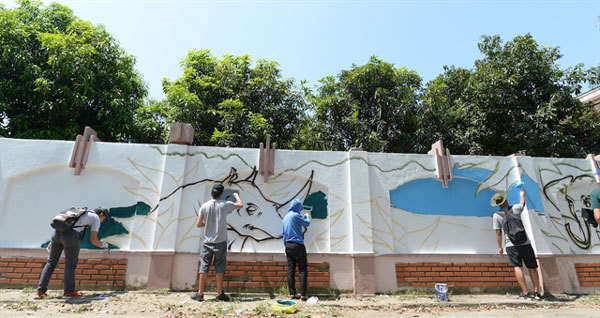 The artists at work with the aim of sending a message to protect wildlife through art. — Photo courtesy of CHANGE

"When they saw the murals for the first time, they were very happy. Children naturally love art and to see their excitement was priceless."
"I think using street art all over the country as a way to spread awareness is very effective. I hope it inspired many people to love animals more, and gain more information about the consumption of wildlife products," he said.
Wessels has a wonderful life in HCM City for five years. He established the I Can Spray Art Academy to share his passion for graffiti art in Vietnam. Apart from the murals, the artists also hosted workshops to spread the message of protecting wildlife. His students in HCM City painted tote bags with meaningful messages as gifts to their peers in Da Nang.
With graffiti art, Wessels is an active artist and curator in Vietnam. With partners and sponsors, he has been providing free creative workshops for those who can't afford it.
Echo from project
When Wessels finished the project, he had lots of ideas for creative workshops. And all the people around him were encouraging, this is motivation for him to seek more opportunities to spread an environmental message.
Wessels' family lives in the Netherlands. When he told them about the project, his family and friends were very proud, as he found another way to use creativity in a meaningful way.
Suby also faced the same situation. Though he had to stay far from home for months to take part in this project, he received support from his family.
"It's a great cause so everyone cared about, it even at home. When you do something meaningful, you always have support," Suby said.
When Suby returned to Paris, he talked to friends about endangered animals in Vietnam and other places. They all agreed that it has to stop.
Suby will return to Vietnam next year as he has exhibitions to hold. He and other artists are eager for the next phase of the project though it hasn't yet been scheduled.
"We are thinking about another tour focusing on matters such as clean energy and plastic waste. Art is a good vehicle to spread these issues," Suby said.
Tran Thanh Hai, chairman of the Hai Chau Ward's People's Committee in Da Nang hailed the project because it's very meaningful. Though it takes time and the result will not be seen now, the project's effect will gradually change people's minds about trafficking and consumption of wildlife products. It will help raise people's awareness of protecting animals, he said.

The Wildlife Street Art Bus Tour programme is calling on residents in HCM City to take action and protect wild animals.

The Wildlife Street Art Bus Tour programme, which was kicked off on May 6 to raise awareness about wildlife crime, has ended in Ho Chi Minh City recently.

The Wildlife Street Art Bus Tour project on Sunday finished its journey through eight provinces, delivering a wildlife conservation message through street art murals.
VNS