Foreign investors stepping in
Mr. Michael Piro, Chief Operating Officer at Indochina Capital, tells VET that foreign investors are keen on niches in Vietnam's property market where smaller local players lack the required expertise.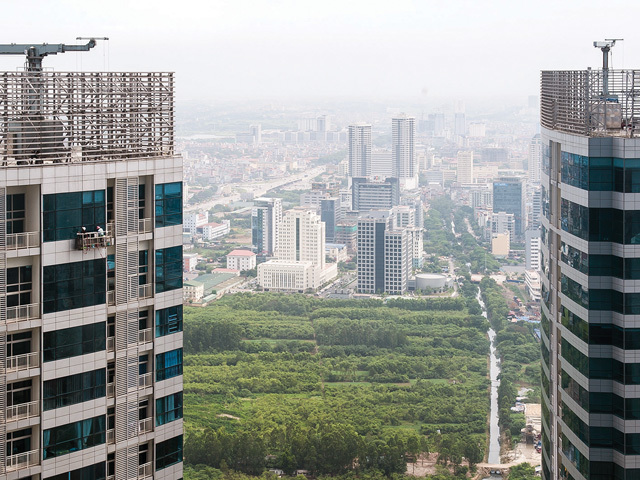 ■ How do you view the development of Vietnam's property market at this time?
We are seeing more consolidation, as projects undertaken by smaller and less-experienced companies are taken over by larger groups.
Large groups with significant financial muscle are bullish on the market, given that Vietnam continues to have strong economic fundamentals, including a young millennial population, high income growth, strong FDI, and a rapidly-growing economy. Therefore, we see many companies who are keen to expand through mergers and acquisitions.
In the meantime, the market has grown to a level where experience is recognized and rewarded as consumers and buyers are becoming more sophisticated.
Buyer demand has started to dictate the direction of the market and what kind of product is being created.
This forces smaller local groups, who are inexperienced but have access to land, to either sell their projects or team up with stronger players.
■ What sectors do you believe will be attractive to foreign investors?
Foreign investors will enter those market niches where local players usually lack the required expertise. These include big box retail as well as high-end and luxury products in all sectors (residential, office, retail, hospitality).
We also see a lot of interest from foreign investors in the logistics industry, with many multi-national private equity groups either already investing in or looking to invest in a portfolio of industrial parks on the outskirts of major cities.
In terms of hospitality, we also see strong foreign interest in the budget three and four-star segment, thanks to the lucrative market landscape led by a growing middle class that is becoming more and more mobile.
At Indochina Capital, we are trying to capitalize on these market trends and through our development arm Indochina Kajima we seek to champion this affordable luxury segment with our upcoming hotel brand Wink Hotels.
■ After successfully building Indochina Plaza Hanoi as a landmark project of international caliber in the capital, what are your subsequent plans in Vietnam?
After an extensive foray into the high-end and luxury segment, where we built some of the most recognizable real estate properties in Vietnam, we are looking to cater to a different segment of the market - the new generation of travelers. Vietnam's young and dynamic population is a market that we believe has been largely untapped, which explains our decision to create Wink Hotels.
Wink Hotels seeks to personify the dynamic youthful generation emerging throughout the region. Blending modern, creative design and functionality with traditional Vietnamese values, each hotel promises to satisfy the young-at-heart traveler's contemporary set of desires.
Each hotel will offer a new style of entertainment, innovative food and beverage concepts, minimalist-style guestrooms, state-of-the-art technology, and a well-equipped co-working space managed by our partner, Toong; adding up to a tantalizing hospitality experience that will be the first of its kind in Vietnam.
With the creation of Wink Hotels, we hope to be the leaders in the "affordable luxury" segment in Vietnam's real estate sector. We intend to celebrate Vietnamese culture while upholding the highest standards in service and design, and create a destination for those who want to be a part of an aspiring community.
Over the next decade, we intend to build out a portfolio of Wink Hotels nationwide. At the same time, we will continue to develop high-end and luxury residential, commercial, and resort properties through our partnership with the Kajima Corporation - the Indochina Kajima Development Company.
■ What are the greatest challenges facing developers in differentiating themselves in Vietnam's property market?
As alluded to in the previous answer, the greatest challenge that developers face, particularly local developers, as they try to differentiate themselves in Vietnam's property market, is their inability to take on risk. This does not apply to all local developers, but it is something that we have observed in the market and in our role as a real estate advisor with Indochina Strategic.
To separate yourself from the competition and ensure that your development has a lasting impression on the market, you cannot innovate by looking at other people; it must come from within, from the company's leadership.
If that is lacking in your company, you should bring in people from the outside who can help foster that spirit, whether it be world-class consultants or designers, or even travel the globe and visit landmark developments to gain inspiration.
When I talk about risk, this refers to doing things differently that will either bring you major success or may see you fall flat on your face and fail. To differentiate yourself, start by creating a culture where people are not scared to take risks and push the boundaries of design and creativity. Most people want to be safe and protect their job - no one wants to put themselves out there and put their name on the line in order to do something extraordinary.
■ Besides your company's significant breadth and depth of industry knowledge and unrivalled practical experience in the successful investment and development of the best real estate projects in Vietnam, what other strengths does Indochina Capital possess in this competitive market?
A competitive advantage that Indochina Capital holds is the contribution of its advisory arm, Indochina Strategic, and real estate brokerage division, Indochina Properties. Providing these real estate services and financial solutions to our clients allows us to understand the market from a different perspective, this time as a consultant rather than a developer. This unique perspective improves our capabilities as a developer, as we will gain a more intimate understanding of the industry and will allow us to be up to date on the most prominent real estate trends in Vietnam.
Both these divisions were created under the foundation of Indochina Capital's experience developing some of Vietnam's premier properties, and we apply the same principles in our day-to-day work with our clients, whether it be introducing international practices to local groups or familiarizing foreign developers with the domestic market.
All of the divisions that make up the Indochina Capital parent company play a key role in our success and solidifies us as leaders in all facets of Vietnam's real estate sector.
VN Economic Times