Foreign tourists visits to Hanoi sharply rise

Hanoi is estimated to have attracted more than 7 million foreign tourists this year, up 17% on-year.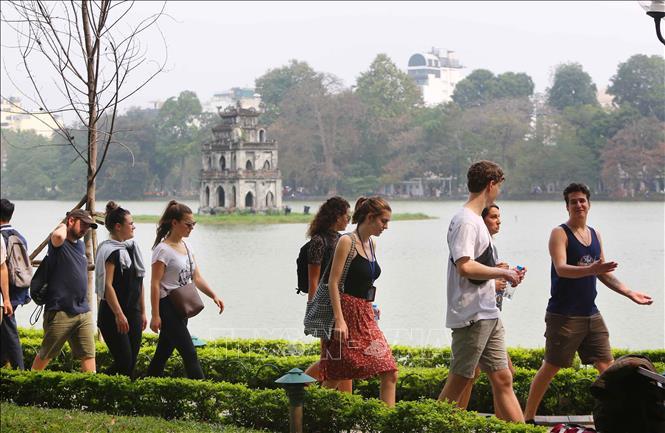 Foreign tourists in Hanoi
According to the General Statistics Office, Hanoi lured nearly 29 million travellers this year, up 10% on-year. Foreigners accounted for over 7 million of these visits, up 17% against the year earlier.  
The city's tourism sector is expected to reach VND103.8 trillion (USD4.47 billion) in the year, up 34% on-year.
In October only, Hanoi welcomed up to 1.62 million foreign visitors, up 34% on-year, the record high so far.
To bolster tourism, Hanoi considers improving the quality of destinations and developing infrastructure and tourism products as important tasks.
The capital plans to attract investment to build shopping centres and accelerate major projects like the Kim Quy culture, tourism and entertainment park in Dong Anh District, a horse racing and entertainment complex in Soc Son District, and Hanoi Museum. It will boost preservation projects at the Imperial Citadel of Thang Long, Bat Trang pottery village and Van Phuc silk village.
Hanoi is planning to augment preparations for upcoming big sports events such as Formula One racing and the 31st Southeast Asian Games to attract visitors.
The city has been shortlisted for the World's Leading City Destination at the 2019 World Travel Awards.
Hanoi has set a goal to serve around 32 million visitors, up 10.2% on-year, including 8.22 million foreigners, up 17%.
The city hopes to pull in the total tourism revenues of VND116.76 trillion, up 12.5% against 2019.
TTVH/VNA

A new gastronomic and entertainment concept featuring the best of Vietnam's northern cuisine, as well as some regional art forms, has been introduced to residents and tourists in Hanoi.

Smart tourism is being applied in a number of tourist attractions in Hanoi such as Bat Trang ceramic village, Thang Long imperial citadel, Van Mieu-Quoc Tu Giam (Temple of Literature - National University) and Hanoi Old Quarter.