Founder of Got It wants to teach coding to Vietnamese children
One decade after founding Got It, Tran Viet Hung has set to work on a non-profit project. He wants Vietnamese children to reach success without having to study in the US, Singapore or other countries.
Hung, born in 1980, founder and president of Got It, is a well known name in the startup community, and one of the few Vietnamese startup founders in Silicon Valley.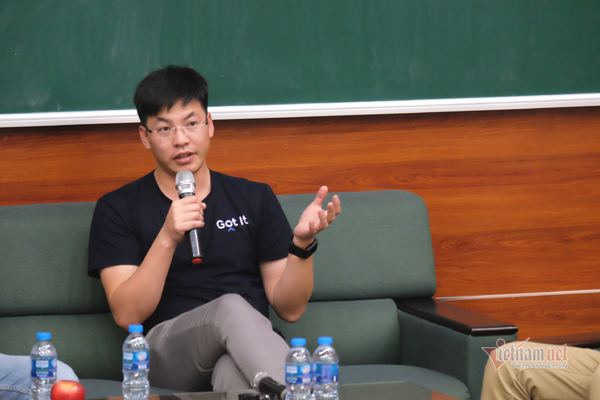 Founder of Got It Tran Viet Hung
Hung is the youngest member of the Advisory Board to the Prime Minister's National Committee on Education and Training Renovation for the 2016-2021 period.
Last summer, the Got It founder began thinking of teaching coding free or charge to children. He was surprised when a 13-year-old student at a secondary school in Hanoi came and asked for an opportunity to work as an intern in software development.
Within three months, the student completed a training course using an introductory curriculum in computer science designed for university education in the US.
The student also studied AI and was able to turn his electric car toy into a self-propelled machine. This surprised Hung and software engineers at Got It.
After that, Hung interviewed and taught programming to other secondary school students and realized that they were able to learn quickly and creatively.
"Technology giants such as Bill Gates, Mark Zuckerberg and Elon Musk began learning to code at the age of 10. I think that if students can be trained well, they will be able to go very far," Hung said.
"I am nurturing a plan on allowing children to become familiar with technology and to be trained in technology as soon as possible with the hope that in the near future, they will become a mighty technology workforce that can change the game," Hung said.
Contributions to country's development
Hung believes that Covid-19, which has forced many people to work from home, has offered an opportunity to teach programming online.
"As they work from home, the project members can save time on travelling and have more time to implement the project," he explained.

One decade after founding Got It, Tran Viet Hung has set to work on a non-profit project. He wants Vietnamese children to reach success without having to study in the US, Singapore or other countries.
Hung received strong support from young people studying and working in the US when he presented his STEAM project.
"We share the same willingness to help create opportunities for Vietnamese children to access modern education models from around the world," he said.
It took only two months for the establishment and enrolment for STEAM. The rapid performance was due to several reasons.
First, as a non-profit organization, STEAM for Vietnam is operated as a technology startup, from the staff structuring and working process to employment and meetings.
STEAM for Vietnam gathers excellent teachers who are talented Vietnamese in the US. They have experience in their fields and hold high positions in large technology groups.
"They are talents that are not easily recruited, even with a lot of money. In order to attract them, I have to show a clear story. Like magnets, when one talent joins our project, they will help attract other talents," Hung said.
All the volunteers have been working diligently at their full time jobs without claiming any benefits. Many of them have even spent their own money to run the activities of the project.
However, Hung and his co-workers have been facing difficulties.
"Some cannot speak Vietnamese fluently, while others have problems because of the time zone difference. And we have to build lessons suitable for all," he said.
"Before every teaching session, we make clear assignments and prepare backup plans. For example, if the main teacher is on the East Coast, the supporting teacher will be on the West Coast. And if the main teacher is in the US, there will be another teacher in Singapore," he explained.
Hung said that technology plays a very important role in narrowing the educational gap among students no matter where they are in the world.
With technology, talented teachers can interact with students from many different areas. And once applying the OMO (Online – Merge – Offline) model, a talented teacher can teach online from anywhere, while students from anywhere can learn with talented teachers. Many famous scientists have been invited to the teaching sessions, including Dr Jeremy Frank from NASA.
Speaking about a training model for talents in Vietnam, Hung said studying in schools for the gifted and winning prizes are not the common paths for the majority of students. Hung and his co-workers had to go a very long path before gaining success.
Therefore, they want to help Vietnamese students shorten the path they need to reach success by equipping them with necessary skills when they are still very young so that they can succeed without having to study in the US or Singapore.
Hung emphasized the importance of teaching computer thinking to children soon, saying that it would be better to do this with secondary school students. 
Thuy Nga

All eight Vietnamese students from Hanoi-Amsterdam High School for the Gifted have claimed medals, including five golds, one silver, and two bronzes, at the fifth International Olympiad of Metropolises (IOM).

There is a software product made in Vietnam which has been used in most computers in the country for tens of years, called Unikey.