French artists to perform 'Tale of Kieu'

Vietnamese epic The Tale of Kieu will be performed by French artists for the first time in Hanoi tomorrow.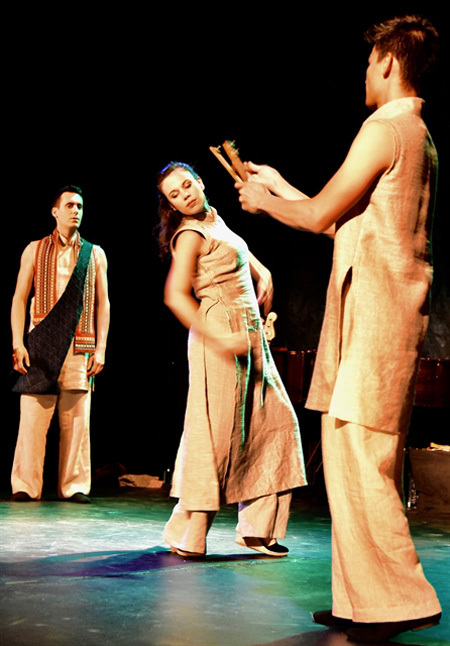 Vietnam's epic Tale of Kieu will be performed by French and Vietnamese artists in September 25 at French Cultural Centre. Photo courtesy of L'espace
Entitled Kim Vân Kiều, the script is adapted from French language research by Nguyen Van Vinh and Nguyen Khac Vien.
Director Christophe Thiry aims to tell The Tale of Kiều in a new way without being disloyal to the original.

The director combines different art genres such as drama, dance, opera and singing to express the masterpiece's takes on life, love, violation, misfortune, hope, ruthlessness and emptiness.
"It is risky for me to stage the masterpiece such as The Tale of Kiều," said Thiry.
"But I'm very excited. Fortunately, like all other human masterpieces, Kim Vân Kiều is about the human condition as well as the people facing the mysterious arrangements of nature.
"The story has deep meaning to interweave with the good and the bad and the moments of awfulness and tolerance. The characters in The Tale of Kiều will be featured full of poetry and humour," said Thiry.
Thiry is a talent artist who has acted, directed, composed, sang and even performed as a circus artist. At the age of 24, he has directed 25 shows which have been performed in Parisian theatres.
The Tale of Kiều by poet Nguyen Du (1766-1820) is regarded as one of Vietnam's top literary works. Du was honoured by UNESCO in 2013 as a cultural figurehead.
The masterpiece has been translated into more than 20 languages and is cherished for its creativity, independent thinking and distillation of Vietnamese culture.
It is about the life and trials of Thuy Kieu, a talented young woman who has to sacrifice herself to save her family.
She sells herself into a loveless marriage in exchange for her father's and younger brother's freedom from prison, not knowing the man she marries is a pimp.
Eight artists will perform and play violin, piano and guitar and Vietnamese traditional instruments.
Sarah Bloch will act Kiều whilst Guillaume Francois will role Kiều's husband.
Bloch graduated from the Conservatory of Saint Maur. She has performed in many works including The Marriage of Figaro, Magic Flute and Carmen.
Francois is a tenor and has performed in Cosi Fan Tutte, The Barber of Seville, and Don Giovanni.
The show will also see performance of Vietnamese musicians Mai Thanh Son and Mai Thanh Nam.
The show was successful when it debuted in Paris in June 2017. The show will be performed in French. A board with Vietnamese subtitles will be hung on the stage at the French Cultural Centre.
VNS