Entitled 'Kim Van Kieu', the show told 'The Tale of Kieu' in a new way without being disloyal to the original.
On the occasion, the show's director Christophe Thiry granted an interview to Ha Noi Moi (New Hanoi) Weekly Newspaper to talk more about the show.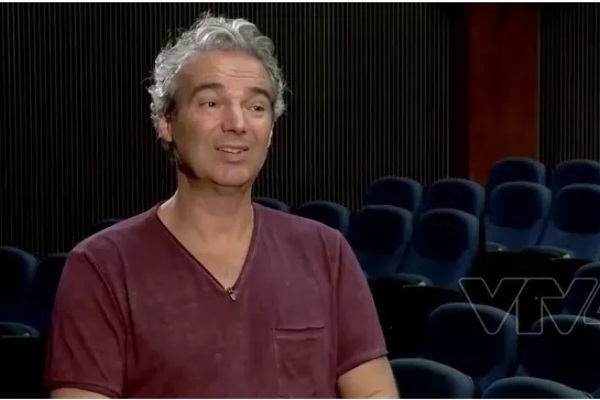 Director Christophe Thiry
Can you please tell us about the motivation to adapt the Vietnamese epic 'Tale of Kieu' into a musical theatre production?
French director Christophe Thiry: I have a Vietnamese friend who is living in Paris. He often comes to L'Attrape Théâtre to enjoy our theatrical shows. He presented me with a French version of 'The Tale of Kieu', which was translated by Nguyen Van Vinh and Nguyen Khac Vien. I was impressed so much by this work that I decided to bring the story to the stage. For me, this was a big and bold decision as I have little knowledge about Vietnamese culture and I hadn't even visited Vietnam before.
Like many others projects I have worked on, the first thing to do was to thoroughly and seriously research about the story, from its author to the social context when it was written. The more I studied 'The tale of Kieu', the more interested in it I become. It is a fascinating story which covers so many cultures that I feel like I can travel through many Asian countries when I read it.
Your show marks the first time for 'The Tale of Kieu' have been adapted into the musical theatre. As the work was written centuries ago, did you face any difficulty during the production of the show?
As 'Kim Van Kieu' is a theatrical performance, I combined different art genres such as dance, opera and singing. I also worked with two Vietnamese musicians, Mai Thanh Son and Mai Thanh Nam, with a hope to blend Vietnamese contemporary culture into the show. In addition, I also blended Vietnamese and Western cultures by featuring Vietnamese and Western musical instruments on the stage together, such as violin, guitar, Vietnamese drum and 'dan nguyet' (Vietnamese two chord guitar).
I also faced certain difficulty in adapting the transcript from the original into musical show, which took us almost one year to complete.
While talking about 'The Tale of Kieu', Vietnamese people will think of a play featuring old-styled costumes, but your show presented a fresh and modern approach to it. Can you tell us more about this?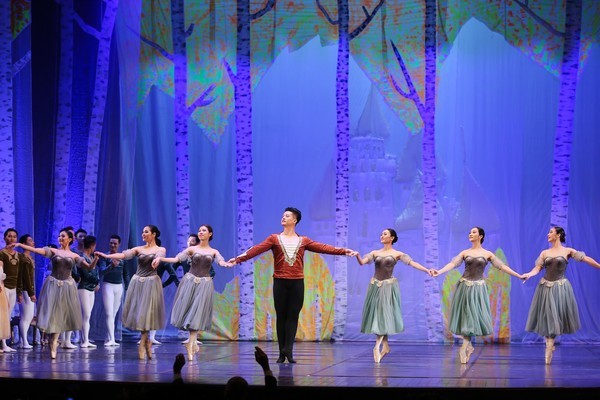 Vietnamese and Western musical instruments are featured on the stage together to blend Vietnamese contemporary culture into the show (Photo: tuoitre.vn)
I left the stage empty without any props but several musical instruments. I want the performers to show their best and develop their creativity. They had to travel through different space and time using their imagination. The audience will understand the story through two narrators. This is how I created a harmony between the old and modern cultural spaces. I want to help my audience to understand and get a touch into Vietnamese culture while enjoying a Vietnamese masterpiece.
Earlier, 'Kim Van Kieu' debuted successfully in Paris with five shows in June, 2017. In your opinion, what helped Paris audiences to understand such a story, which was set in the 16th century in Vietnam, a far-away country from them?
Obviously, there are clear cultural differences. From our cultural background, it is difficult for us to understand many details in Kieu's life and successive incidents she encountered in her life, many of them being unbearable. My artists even got confused about the situation why Kieu had to sell herself into a marriage with a middle-aged man to save her father and younger brother from prison. However, my performers filled the gap in cultural difference in order to convey the author's meditations and philosophical values of the Vietnamese work.
In my musical play, there is not only one but three artists playing the role of Kieu, who represent pure souls and beauty but have to encounter many tragedies in life. 'The Tale of Kieu' is a symbolic story, a door opening a whole new culture which helps us to meditate upon our lives.
Nhan Dan/Hanoimoi

Four theatre productions based on Vietnamese literary masterpiece Truyện Kiều (The Tale of Kiều) will debut at the Vietnam Youth Theatre on October 12-13 under a project launched by the Goethe Institute in Hanoi.

Vietnamese epic The Tale of Kieu will be performed by French artists for the first time in Hanoi tomorrow.