German players visit the banned Hanoi rail track area
A photo of some Bundesliga club Borussia Dortmund footballers sitting on the banned train track area in Hanoi has gone viral on the internet since Tuesday evening.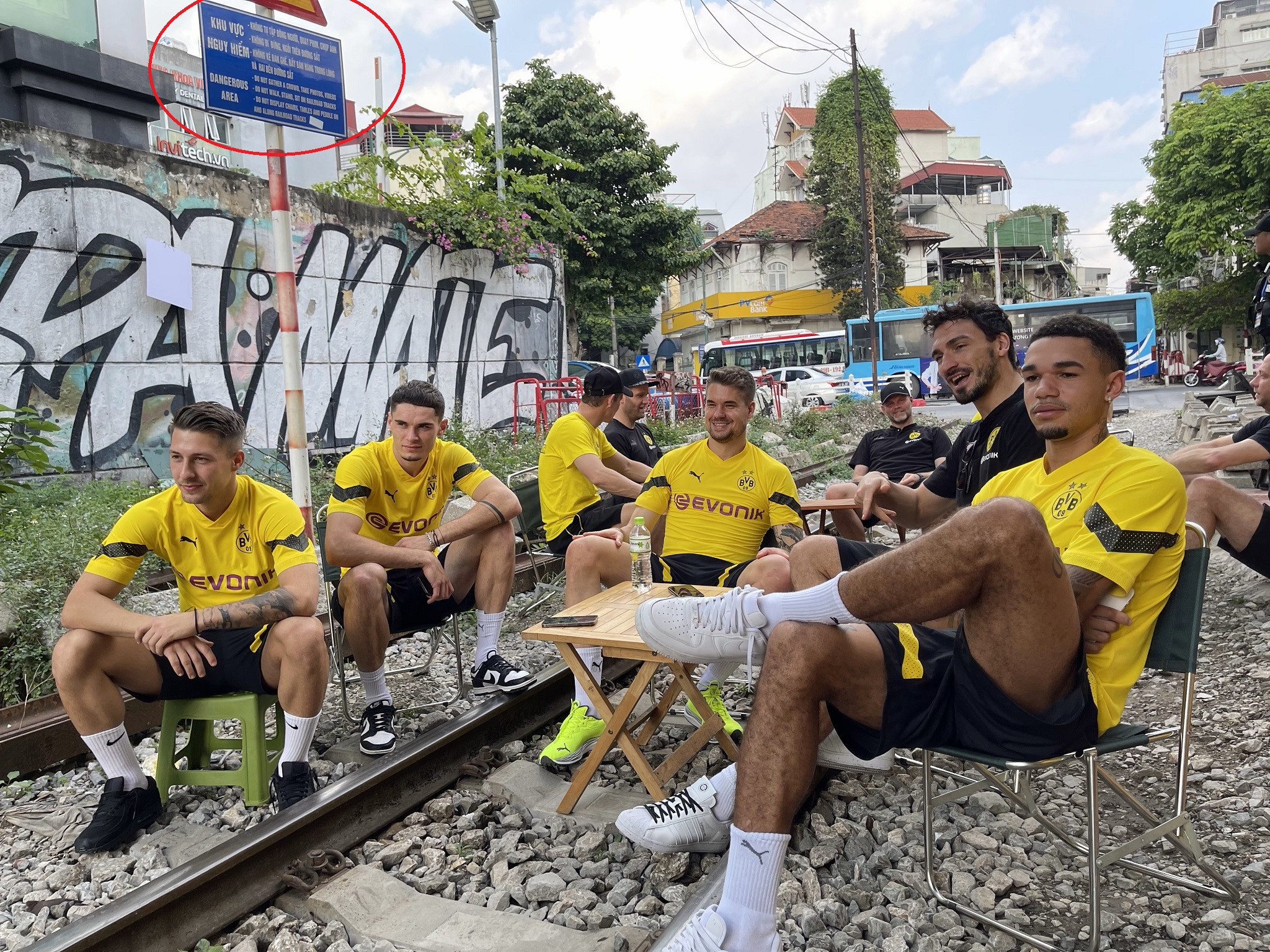 Some Bundesliga club Borussia Dortmund footballers sit on the banned train track area in Hanoi on November 29.
In the photo, eight players are sitting around a table placed on the train track, chatting and having drinks. The image also includes a warning sign saying this is a dangerous area, no gathering and placing tables and chairs along the rail tracks.
Speaking to the VietNamNet Newspaper on Tuesday evening, chairman of Hoan Kiem District People's Committee Pham Tuan Long, said that he had been informed about the case and had asked for an investigation.

The same evening, local authorities put up barriers at the cafe that served the German players and cleared the pavements that encroached on the track area.

The team arrived in Hanoi on Tuesday morning for a friendly match with the Vietnam national football team. In the afternoon, they took a cyclo tour around the city and enjoyed coffee by the railway on Dien Bien Phu Street before a training session.

The friendly between Vietnam national football team and Dortmund will take place at 7 pm at My Dinh Stadium on Wednesday.

The train street, which attracts lots of visitors, was closed in mid-September and all the cafes had their licenses revoked following rail safety concerns from the Vietnam Railway Authority.
However, owners of coffee shops along the street later sent a group letter asking for local authorities to allow them to continue to operate. They expressed the hope that local authorities would not eliminate the popular tourist spot.
While the ban is still being applied, the cafes here have continued to serve tourists.
Source: Dtinews