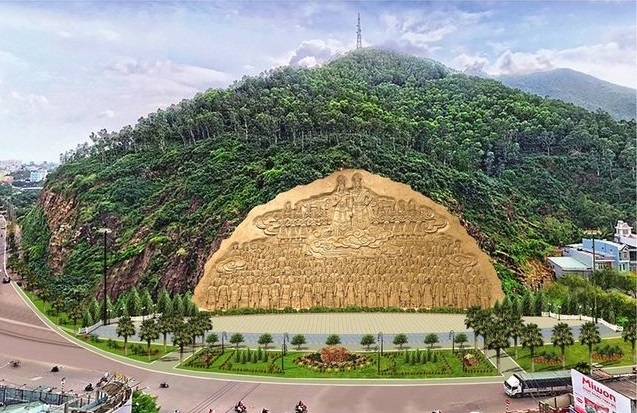 The model of the sculptural relief to be built on Ba Hoa Moutain in Quy Nhon City
The work on Ba Hoa Mountain features the image of legendary Lac Long Quan and his wife Au Co. It is intended to be a landmark in Quy Nhon City's gateway as a way to promote local tourism. 
According to the provincial Department of Culture, Sports and Tourism, the project will cover a total area of around 3,000 square metres, including a garden, a square along with other supporting facilities.
The sculptural relief will be 81.5 metres long, 35 metres high and carved some 20-25 metres deep into the mountain.
The work will consist of three layers. The first is the picture of Lac Long Quan and Au Co. The second is 18 Hung Kings and the last is representatives for 54 ethnic groups of Vietnam holding hands to depict national unity.
A square with green space will be built in front of the sculptural relief to serve community activities.
Site clearance is underway for the project implementation; however, its total investment has not yet been disclosed. However, local authorities said that the investment capital will be sourced from private sources.
Nguyen Tuan Thanh, vice chairman of Binh Dinh People's Committee said that the work using natural stone is expected to contribute to raising Vietnamese young people's awareness of national pride as well as to promote Quy Nhon's tourism.
The legend says that Lac Long Quan was married Au Co. She gave birth to a sac of a hundred eggs, which were hatched into a hundred boys. One day, Quan confessed to her: "I am a descendant of the Dragon, you are descendant of the Fairy, fire and water can't live together in harmony." The two of them then divided their children.
Fifty sons followed their mother to the mountainous north, the other fifty followed their father to live in the south; these children are ancestors of Bach Viet. The oldest brother followed Au Co to Phong Chau in Phu Tho. According to legend, Quan's successor became the founder of the Hung Kings' dynasty. Dtinews
Doan Cong