Girl with brittle bone disease opens class for poor students
As she wasn't able to fulfil her dream of becoming a teacher due to congenital vitreous disease, Nguyen Thi Ngoc Tam opened a free class for poor students.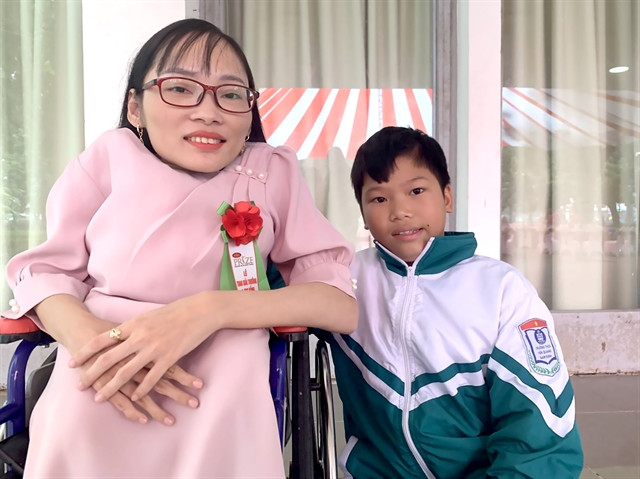 Nguyễn Thị Ngọc Tâm with one of her students. — VNA/VNS Photo Lê Vân
Her class has no chalk, no blackboard, no lesson plan and no tuition fees, but it has been providing an education for the past 18 years.
Tâm, from Yên Quang Commune, Ý Yên District, Nam Định Province, won the Kova 2022 Prize in the category of Beautiful Living.

She received the National Volunteer Award in 2020, and was one of 64 outstanding examples of young people with disabilities honoured as part of the programme "Tỏa sáng nghị lực Việt" (Vietnam's energy shines) in 2020.

Tâm uses a wheelchair and moves with support from her mother and her students.

Tâm said: "I am 32 years old now, but at times I suffered from problems with my bones usually seen in much older people. I can't remember how many times I have experienced broken bones. I suffered from many other diseases with my heart, lungs and stomach, making my health weaker day by day."

Because of her weak health, Tâm did not go to preschool.

She started school when she was eight years old to fulfill her desire to study.

"Seeing my teachers standing on the podium, I loved the work very much. The dream of becoming a teacher gradually grew in me. However, with my increasingly weak health, I realised that it was impossible," she said.

Tâm constantly strives to study well in all subjects.

During her school years, she always had excellent results.

She is always willing to teach and support the younger students in their studies.

"I found out that I can partially follow my dream by teaching younger students. Then a class was set up at my house," she said.

After finishing junior secondary school, Tâm had to quit school because of her bad health.

But the desire to become a teacher motivated the girl, so she bought books to self-study at home.

With support and encouragement from her family, Tâm opened a free class for poor students in her locality.

Reputation spreads

After 18 years of holding free classes, the name "teacher Tâm" became very familiar not only to the people in Yên Quang Commune.

Students from neighbouring areas and other provinces also travelled to attend the class.

"The students' parents told me that they want their children to learn not only knowledge but also my spirit of overcoming difficulties in life. Many of my students have now graduated from university and have jobs," said Tâm.

Tâm often teaches students from grade one to grade eight.

Many of her poor students have improved and made good progress with her teaching.

"Perhaps my students see that I'm small and move with difficulty, so they learn self-discipline. I teach my students to allocate study time and effective learning methods. Some parents told me that they are not poor, but still want their children to learn from me. Over the years, despite pain and serious illness, teaching students is the motivation for me to live happily," said Tâm.

Tâm also set up a library at her house for students.

Having a dream and making effort to fulfill it in difficult conditions is a precious thing. Tâm is a good example of overcoming difficulties to contribute to the community.
Source: VNS