Giving opportunities to talented people
The level of income is necessary but not a prerequisite. We have to give qualified people the chance to do what they can do so that they feel like they are contributing to the community.
In part 2 of the online roundtable "Vietnam and Aspirations", Dr. Nguyen Van Dang from the Ho Chi Minh National Academy of Politics and Prof. Le Anh Vinh from the Vietnam Institute of Educational Sciences, talk about solutions to attract and gather talented people for the country's development.
At the opening session of the 13th National Party Congress, General Secretary and State President Nguyen Phu Trong emphasized the focus: Arousing spirit and will, determination to develop a prosperous and happy country; the strong and enduring nation; to develop mechanisms and policies to promote the Vietnamese people's spirit of dedication to the country.
With the clear direction for national development, what human resources do we need to develop the country, especially during the current golden population period?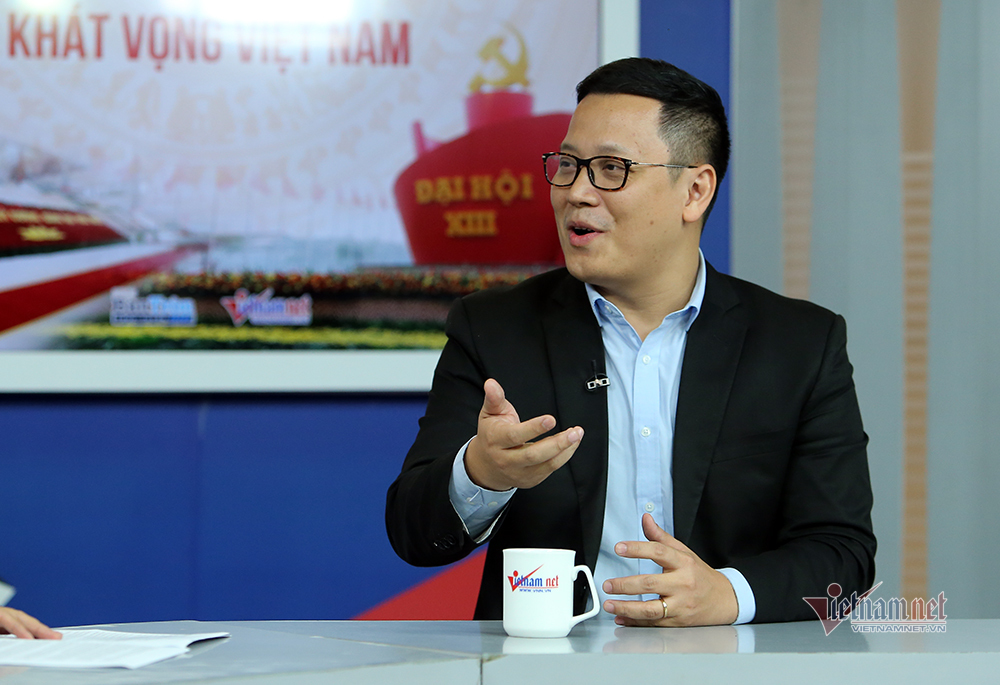 Prof. Le Anh Vinh. Photo: Pham Hai
Prof. Le Anh Vinh: First of all, we are holding a golden opportunity. Vietnam has turned to a golden population since 2006. We will have about 20 years more in this period and we need to fully exploit this potential.
Vietnam also has a big population so we have the potential for remarkable growth in the coming period.
However, we also have limitations. First, Vietnam is among the countries with the high population aging rate and the golden population period is very short compared to other countries.
The second drawback is that there is an indicator relating to a country's socio-economic potential when it reaches its population peak. If we take the US with 100 points, Singapore 146 points, then Vietnam has only about ten points.
Simply, we are facing an opportunity to mine a gold mine - that is the population - but the license period is short, and the sci-tech conditions to mine it are limited.
The problem therefore is how to exploit it most effectively. I think it's about investing in people and education. This is the solution to maximize the development ability in the coming period.
Dr. Nguyen Van Dang: I agree with Professor Vinh that we are at the stage called the golden population structure. However, that is a challenge for us to take advantage of it.
I also agree with Professor Vinh that, first of all, we must invest in education and training to improve the quality of human resources and to increase the competitiveness of workers in the local labor market.
Second, in my opinion, policies must promote economic freedom. Because promoting economic freedom will increase employment opportunities for workers. We have a high number of people of working age, so the economy can develop to meet the needs of workers and then we can take advantage of the golden population structure.
Without strong adjustments, in the next 20-25 years, we will enter a period when the population is starting to age, and the opportunity will be over.
In the process of investing in people and education and training, what should we do to create opportunities for the emerging talented people?
Prof. Le Anh Vinh: I work in the field of education and have the opportunity to work with many young people, many capable ones. As I have observed, the capable people often have a desire to contribute to society. That is, besides their pursuits in life, they all want to contribute to the community, society and the country.
However, how should we promote that? I think, in the process of using people, we have three steps. Step 1 is discovery, step 2 is training and step 3 is use. There should be a consistent policy in all 3 steps.
Let's look at the policies of some regional countries such as Singapore, Malaysia, and Thailand. The first is discovering capable people. We must foster talent through education and training, but at the same time we need policies to employ talented people.
I think the key point about using people is a consistent policy, from discovery to training to utilization.
Dr. Nguyen Van Dang: In order for talented people to appear, firstly it must be clear about what a talented person is. Because it is a general concept. There are people who are talented in political leadership, others are talented in management and others talented in certain professions.
Second, we must create confidence in people that the people who believe that they have talent and capacity should join the public sector, the activities of the State and the government and they will change their lives in a more positive direction by contributing to the community and society.
How to gather talented people? I think it belongs to the leadership role. That is to form inspirational value systems capable of gathering capable people so that they are inspired and have aspirations to contribute to the community and the country.
Participants can be talented in the public, private and communities. So how to connect talented people in these three areas? This will be a challenge in leadership and management.
To gather talented people, the key point is to build and shape new value systems, reflecting the breath of life, of the times, and attaching this to the current context so they can be shared by the corporate sector, the state and the community.
Of course, they must be followed by policies on remuneration, recruitment and others.
Dr. Nguyen Van Dang
What about the issue of income and remuneration in the policy to attract talented people, Prof. Vinh?
Prof. Le Anh Vinh: I think income level is necessary to have a stability in life and talented people have the ability to earn high income.
But I don't think this is a prerequisite. I strongly agree with Dr. Dang that the prerequisite is that we must give qualified people the opportunity to work with their capabilities and strengths so that they can maximize their talent and give them the feeling that "I'm doing this not just for myself, for my family, but also for the community".
In 2010, at the age of 27, Le Anh Vinh received a doctorate from Harvard University. In 2020 he became the youngest professor in Vietnam. There are many opportunities to study and work abroad. Why did Professor Vinh choose to return to Vietnam to become an educational manager, and a teacher?
Prof. Le Anh Vinh: Actually, this is a personal choice and I have never wanted to work abroad. Since childhood I have always had a great connection with my family. My parents never told me such great things as you must contribute to the country. They also did not tell me "try to study and work abroad"...
My parents just told me a very simple thing: do what you feel is the happiest.
I always feel happiest to be with my family and develop in the environment in which I was born and raised. More broadly, I can live in my own country.
Now the international connection is very simple. During the period from 2010 to 2020, when I returned home, I also had short-term work trips abroad. But I want to work for a long time in my country.
Dr. Dang is also one of the young people who have the opportunity to study in developed countries, then return home to teach, and have very insightful articles, contributing ideas to the country's development policy. What do you think about dedication?
Dr. Nguyen Van Dang: In the community of overseas students, I find that the vast majority of them have the desire to return to their home country to find suitable jobs, bring what they learned abroad to contribute to agencies and organizations at home as well as their country.
That is the desire to contribute. We could get a normal job in America, but it was just about making a living. Returning home, we can teach at universities and staff training schools. And we feel like we can contribute more. We feel that our lives are more meaningful.
The problem is how to maintain, and promote that desire. It relates to the policies of the Party and State.
VietNamNet

VietNamNet has organized an online roundtable with the theme "Vietnam Aspirations".