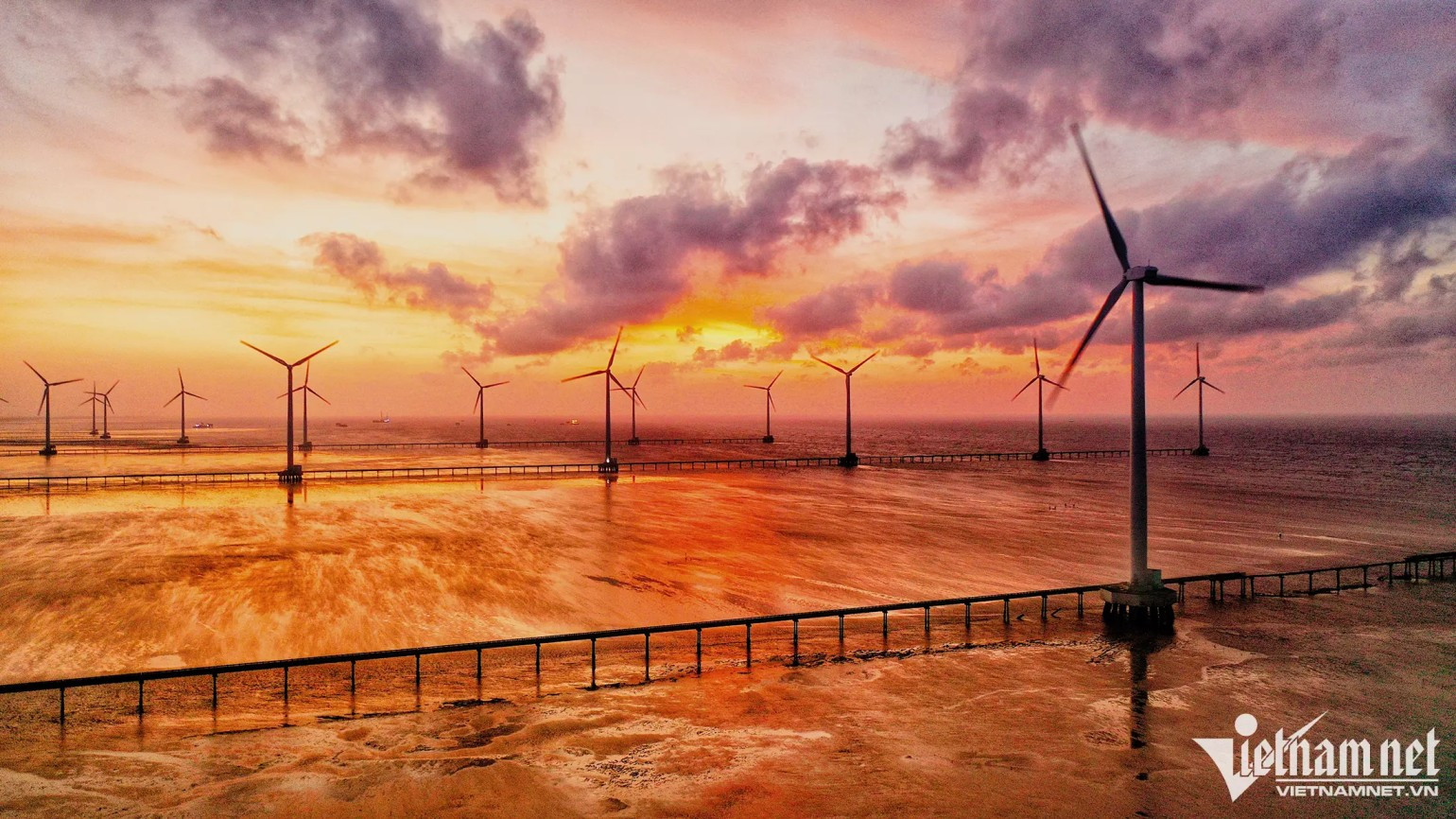 "Protecting the environment and combating climate change is both a global and national issue," said Deputy Prime Minister Le Van Thanh at the national environment conference held several days ago.
At COP26 (the 2021 United Nations Climate Change Conference), Vietnam made a strong commitment to reduce net emissions to zero by 2050.
This was not an empty commitment. Right after COP26, the Ministry of Industry and Trade was asked by the government to revise the draft of the eighth national power development plan (PDP), which was about to be approved.
"We need to implement the commitment in a substantial and responsible way, with specific goals, tasks and solutions," Thanh said.
Increasing wind power and reducing coal-fired power was the main spirit of the revised eighth PDP, as per the government's request.
Thanh said that the eighth PDP is proof showing the government's determination in implement COP26 commitments.
The government and Prime Minister have convened many meetings over the last year to check the plan and reduce coal-fired power. It is expected that 20,000 MW of coal-fired power of dozens of projects will be cut.
The Ministry of Industry and Trade (MOIT) report to the Prime Minister about the PDP 8 showed big changes in electricity source installation capacity to 2030.
According to the ministry, an additional 12,000 MW of onshore wind power needs to be put into operation by 2030, including 2,800 MW in the north, which needs to become operational in 2024-2025.
Meanwhile, offshore wind power by 2030 needs 7,000 MW, including 3,000 MW in the south and 4,000 MW in the north.
Offshore wind power sources in the north needs to be put into operation from 2027 to ensure electricity supply in the north.
Ngo Duc Lam, former deputy head of the Institute of Energy under MOIT, said renewable energy to reduce greenhouse gas emissions will rely mainly on wind and solar power.
The development of solar power will also help reduce emissions, but it has a disadvantage that it can only produce electricity in the daytime.
The current electricity transmission network is not strong enough to transmit solar power to be generated, as solar power projects are mostly located in Ninh Thuan and Binh Thuan. In other words, the capacity of solar power is high, but power cannot be transmitted to users.
In order to transmit electricity, it is necessary to build more transmission lines, which will be very costly. To avoid oversupply, a solar power roadmap needs to be developed.
In general, according to Lam, wind power will be important for the net-zero commitment by 2050.
Challenges
Offshore wind power is a new field in Vietnam, so the legal framework, pricing mechanism and associated mechanisms have not been issued, especially on bidding.
The fact that 62 onshore wind power projects could not become commercially operational prior to November 1, 2021 and have been left idle for many months is a lesson in renewable power source development.
For months, private investors sent documents to the Lang Son People's Committee and Lang Son Industry and Trade Department, asking for permission to study and develop wind power projects in the province. They were Baywa r.e. Projects Vietnam; Trung Nam Group, Europlast and Ha Do Group.
In late 2020, GE Vietnam also asked provincial authorities to allow it to carry out surveys to implement two wind power projects with total capacity of 418MW.
Offshore wind power super projects capitalized at tens of billions of dollars are being surveyed by investors, both foreign and domestic, in many localities from the north to the south, which shows the attractiveness of the field.
However, investors are still only exploring the situation and seeking opportunities.
"We are looking forward to seeing approval of the eighth PDP so that we can make business results. At present, we have suspended investment activities related to renewable energy. For businesses, lacking projects to invest in is not a pleasant feeling," an investor said.
Luong Bang