VietNamNet Bridge – Prime Minister Nguyen Tan Dung said on Wednesday (Jan 22) that the Government is determined to make "positive" changes in pricing management and the equitisation of State-owned enterprises this year.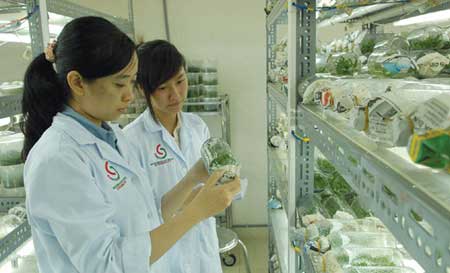 Staff at the HCM City Biology Technology Centre check the growth of seedlings. Economists have said a long-term strategy, that gradually increases the application of scientific and technological advances, is needed for agriculture and rural development.
Meeting with the Government's consultative experts to discuss implementation of the 2014 Socio-Economic Development Plan and State Budget estimates, he said it was critical that the State stops its subsidies in influencing pricing of goods so that it can provide more support to poor people and beneficiaries of social welfare policies.
Such moves should be accompanied by increased transparency on the components that make up gas, electricity, fuel and coal prices, he said.
Management of healthcare and education fees should also be improved, the PM said.
He said that the Government is speeding up negotiations on free trade agreements with various partners in order to expand export markets. This will create momentum for domestic reforms, especially in improving the country's market economy orientation and facilitating entrepreneurship, he said.
The experts said they agreed with the Government's consistent policy of strengthening macro-economic stability, controlling inflation and facilitating production and business activities. They also threw their collective weight behind the need for swift economic restructuring.
They suggested that the Government's plans can be better implemented with a clear division of tasks and responsibilities between ministries, agencies and localities and a more frequent update on the outcomes of such measures.
The experts also recommended that the Government, in addition to focusing on short-term policies to solve immediate challenges, pays due attention to mid-term and long-term policies that are based on sound analysis and forecast of the domestic and international situation.
It is essential that the Government follows through on its promises of administrative reform, reviews and completes legal documents that facilitate the best use of opportunities created by free trade agreements that Viet Nam has signed and is about to sign, they said.
Some economists said that agriculture and rural development needs a better long-term strategy that gradually increases production, steps up application of scientific and technological advances, increases investment in infrastructure construction, develops markets and promotes the processing industry.
The Prime Minister expressed high appreciation for the experts' insights and suggestions, saying they would help improve governance and socio-economic management.
Source: VNS