Great progress expected from Vietnam-Japan shipbuilding cooperation

Vietnam-Japan cooperation in the field of shipbuilding is hoped to bring great opportunities to develop Vietnam's technology, especially in ship designing.
On March 2, 2020, representatives of the Ministry of Defense of Vietnam met with General Yamazaki Koji, chief of the Japanese Self-Defense Forces' Joint Staff.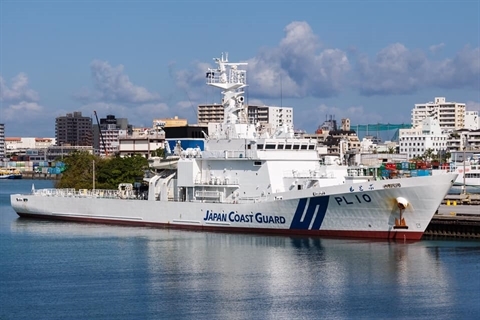 At the talks, the two sides put forward a wide range of cooperation issues for the coming time, including technology transfer in the military shipbuilding industry and cooperation in producing economic items.

Vietnam also proposed to conduct joint training activities between the Military Technical Academy, the School of Information Officers of Vietnam and the National Defense Academy and other Japanese schools.

Commenting about the cooperation program, Do Thai Binh, a respected expert in shipbuilding, said this was a good move which will open up opportunities to develop Vietnam's shipbuilding industry.

Vietnam-Japan cooperation in the field of shipbuilding is hoped to bring great opportunities to develop Vietnam's technology, especially in ship designing.
After World War II, Japan emerged as one of the countries with the best shipbuilding techniques for both military and civil ships.
"In Japan, the building of military and civilian ships is nearly the same. Meanwhile, in Vietnam, there are still gaps that can not be cleared. So, the cooperation with Japan in this field will pave the way for a new development direction for Vietnam's shipbuilding industry in the future," he commented.

According to Binh, Vietnam has gained big achievements in the shipbuilding industry in recent years. The orders to build tens of ships, both military and civilian, for export to African countries have come.

However, in most cases, Vietnam builds ships based on ready-made designs provided by clients. This means that Vietnam just does outsourcing, like a hired worker.

In order to develop a shipbuilding industry of its own, Vietnam needs to develop design. It needs to design not only the appearance, but the engine and functional uses of ships.

Not all countries can do this. Japan is one of the world's leading countries in this field.

"I hope that through the cooperation program, Vietnam will be able to receive modern technologies and to some extent, develop designing," Binh said, adding that shipbuilding is a general industry which needs advanced technologies.

After World War II, the US left hundreds of military ships in Japan, large and small. Japanese 'inherited' those ships to research, copy technology and develop technology to a new level.

Therefore, Japan's shipbuilding sector is close to the US, one of the most powerful military powers in the world. Therefore, Vietnam's cooperation with Japan in this field is be the shortest way to access the modern shipbuilding industry and apply the most advanced technologies in shipbuilding.
Thanh Mai 

Among the sounds of hammers and steel-cutting machines, 50-year-old Nguyen Ngoc Hong, a worker of Pha Rung Shipyard Company in Hai Phong City, puts a vessel through final tests after construction has been completed.

Who is to blame for the unprofitable shipbuilding projects which have had to stop operation?