Gardeners see profits in 'green' produce
Natural cosmetics are vitalised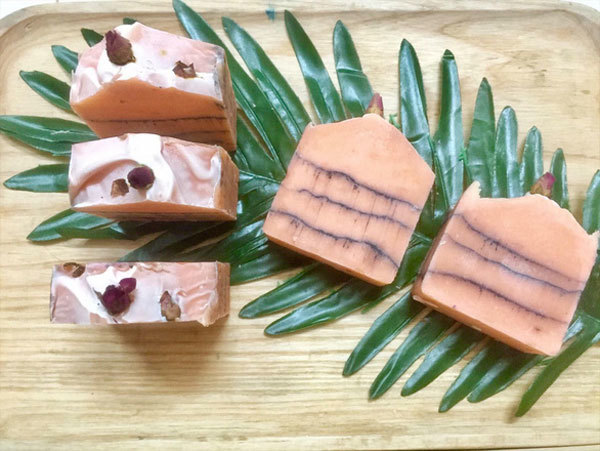 Local, organic and natural beauty products have captured people's attention. Photo courtesy of tuoitre.vn
At local drugstores such as Guardian and Watsons, a variety of cosmetic products can be easily found.
Most of them are imported from abroad such as South Korea, Japan, the US and Taiwan, with prices ranging from thousands to millions of dong.
Since international beauty products are usually displayed at the most visible shelves or beautiful booths, with consultants available on the site, they are picked up multiple times by buyers, especially during the sales season.
However, beauty products from local brands such as Thorakao and Vedette tend to be sold in limited quantities and displayed in unattractive areas, generating lower revenue.
"We can't deny that many local skincare products are of good quality and are affordable," a shop owner in District 10, whose name was withheld, told Tuổi Trẻ (Youth) newspaper.
"Lack of creative marketing campaigns and packaging ideas have led to their unpopularity," he said, adding that revenue earned from selling local beauty products is typically not very significant.
According to Patrick Mui, creative consultant director of Centdegres Vietnam, to improve their competitive advantage, small- and medium-sized local cosmetics brands should make use of existing online shopping channels while saving their budgets to build customer trust and a brand identity.
"Lately, the beauty industry in Vietnam has developed significantly. This is a crucial time for local cosmetics brands to introduce their philosophy so their products can stand out among existing products in the market," he said.
He added that Vietnamese beauty brands could be divided into two categories, one being traditional brands that have encountered challenges in re-branding their image such as Thorakao and Lana, while the other being new brands with innovative mindset and market awareness.
These new brands have brought a breath of fresh air to the local beauty industry via their dynamic brand image and packaging, many experts said.
Green cosmetics trend
Many Vietnamese cosmetics brands have recently introduced products that are environmentally friendly. Stores in HCM City have stocked organic, natural cosmetics that are produced locally.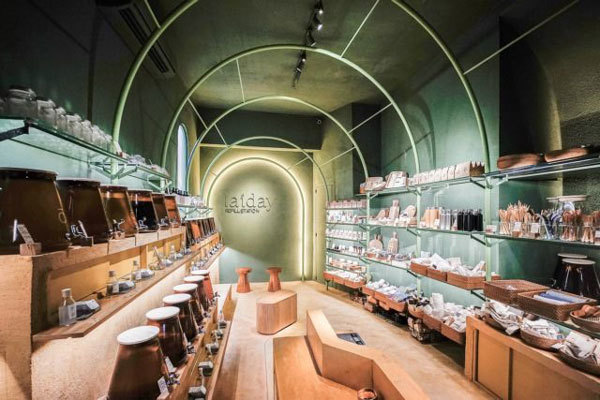 Lại Đây Refill Station is among some popular green stores in HCM City. Photo courtesy of vietcetera.com

Though the quantity of these products is not significant, the variety in products such as lipstick, foundation, contour kit, face cleanser, toner and moisturiser has impressed many customers.
These products tend to have simple packaging, including a glass bottle or bamboo box.
Many cosmetics firms said that as ingredients of their products are taken from natural coconut, turmeric, and honey, among other items, they are safe to use even on sensitive skin.
Take rose mask as an example. It is made from rose petals grown in non-chemical environment and later ground into a powder form for easy application on the skin.
Local green cosmetics are sold in a relatively affordable price range compared to those of international brands. For example, an eyelash serum made from coconut oil costs VND30,000 per tube while face toner is usually VND500,000 per bottle.
According to Vu Duy Quang, general director of a local cosmetics brand, production of natural, "made-in-Việt Nam" beauty items is very "in" at the moment as many customers are looking for healthy yet affordable beauty alternatives.
This is also an opportunity for local brands to develop sustainably, he said.
"Though the use of green products is trending globally, many local firms have found it difficult to source a sufficient supply of organic ingredients. Though the supply can be easily found overseas, expensive import costs and short expiry dates have posed a problem to local buyers," he added.
Vietnamese cosmetic firms should rely on and make local ingredients the base for their products. As for emollients that cannot be found in Vietnam, they should find them overseas, he emphasised.
"Vietnam has an advantage in coconut and rice sources and I encourage all firms to go after these ingredients so that they can reduce production costs," Ngoc Dung, a cosmetics shop owner in District 3, said.
"Affordable price tags are what give local beauty products a competitive advantage. Most skincare and makeup products in my store used to be from overseas. Now that I can clearly see its market potential, I have started to display more local products and I've received positive feedback from buyers," she said.
"I'm lucky that I've made friends with some nice entrepreneurs in the cosmetics field. I'm thinking about coming out with my own brands in addition to being a retailer," she added.
VNS