Green-tech urged for Da Nang's dump

A garbage crisis in the central city of Da Nang has eased in recent days, but people living near Khanh Son Dump are still concerned about the city's plan to move the dump.
Trash hurts cash: Environmental issues threaten economy
Da Nang to enforce rubbish sorting from July
Waste treatment: Vietnam needs policy to encourage competition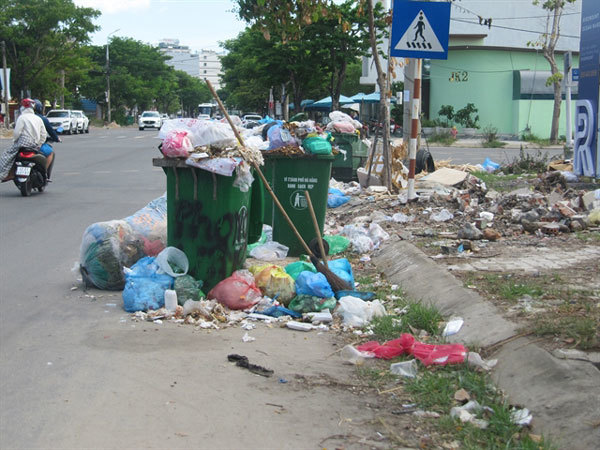 Rubbish is pilied up at a temporary waste storeage site in Da Nang City's Son Tra District. An amount of 1,200 tonnes of daily rubbish remained unremoval at the city's downtown over past past weekend. VNS Photo Cong Thanh
Hundreds of local households blocked a section of Hoang Van Thai Street earlier this month to prevent dump trucks transporting rubbish into the dump for burial, leaving thousands of tonnes of rubbish in the city's downtown for days.
Rubbish piled up at living quarters and public sites between July 4-7. Dump trucks limited transporting rubbish from the city's downtown to bury at Khanh Son dump as residents living in Hoa Khanh Nam ward, near Khanh Son dump, protested a plan to develop a solid waste treatment complex at the site.
On July 19, rubbish was still piled up.
The municipal People's Committee asked the city's Department of Nature Resources and Environment and Lien Chieu District to deal with the 1,200 tonnes of garbage that remained at living quarters and in temporary storage.
The committee's Huynh Duc Tho said the department and administration of Lien Chieu had to persuade people living near the Khanh Son dump to end the blockade.
Despite a dialogue between local administration and local people in the area, households still protested and prevented dump trucks getting to the dump.
In a meeting last month, the city said it planned to build a waste-to-energy project at Khanh Son dump worth US$80 million.
The project investor – the Viet Nam Environment Joint-Stock Company – said it would develop from the already invested first phase of a rubbish recycling plant from 2015 in processing 650 tonnes of garbage each day to supply fuel for power generation from 2021.
Nguyen Van Tuan, director of the company, said it would work with Ever Bright International company from Hong Kong to build a waste treatment complex at the dump.
Tuan said Ever Bright International had already developed a waste treatment project in the southern province of Can Tho with a capacity of burning 400 tonnes rubbish as material for generating 150,000 Kwh of power daily.
However, residents are suspicious of the use of unhealthy technology in the project to be built at Khanh Son dump.
Nguyen Duc Sinh, a resident of Hoa Khanh Nam ward, who joined a field trip to the waste treatment project in Can Tho last month, said an updated technology waste treatment plant could stop harmful operations, and the plant should be built at another site, not near living quarters.
"We had a visit to the waste processing plant in Can Tho that was developed by Ever Bright International. It's quite smooth operation. However, we could only see a processing test with three dump trucks in two hours," Sinh said.
Pham Van Long, a man living near Khanh Son dump, asked the local administration and the Khanh Son dum-based project investor to be transparent on the planned facility's technology.
"We want a clear demonstration and explanation on the waste processing technology that will be used for the Khanh Son dump-based project, and it needs a public and independent assessment on the health impact of the project," Long said.
He said more than 3,400 people had lived in the area since 2004 and Khanh Son dump had been seriously polluted with wastewater leaking from the dump and smelly air over the years.
Long said the project should be built at an isolated area far away from living quarters.
Chairman of Hoa Khanh Nam ward Vo Khoa Nguyen admitted air and wastewater pollution from Khanh Son dump had badly impacted thousands of residents.
He said the ward asked the city and project investor to build a modern waste processing plant at the site that wouldn't pollute the area.
Vice chairman of the city's people's committee Dang Viet Dung said the city had asked Da Nang urban and environment company – the managing unit of Khanh Son dump – to plant more trees and carry out wastewater treatment.
Dung said the dump should be replaced by a hi-tech and healthy waste processing project.
He said the city would speak with local people before developing the waste treatment project.
Nguyen Thi Thanh, who has lived in the area more than 30 years, said bad air came from the dump between 8pm to 4am – the busy time of dump trucks operation.
She said the dump was scheduled for removal from 2019, but now a waste treatment complex with unclear technology could be on the way.
According to the city's Department of Natural sources and Environment, the Khanh Son waste recycling plant, which was built on 20ha from 2015 by the Viet Nam Environment Joint-Stock Company, failed to treat rubbish effectively in its three years of operation.
However, the Viet Nam Environment Joint-Stock Company was assigned to develop the second stage by building a waste incinerator to turn waste into electricity.
Once operational, 100 tonnes of solid garbage could be used to produce from 1.5MW (megawatt) to 2MW of power, a report from the company showed.
Da Nang produces nearly 900 tonnes of garbage each day, of which 95 per cent is collected, and only 10 per cent recycled, while an incineration system only processes 200kg of medical solid waste in one hour. VNS
Cong Thanh