Ha Noi coach banned for Hoang Anh Gia Lai clash

Coach Chu Dinh Nghiem will be in the stands when his Ha Noi FC take on Hoang Anh Gia Lai today at their home ground Hang Day Stadium in the V.League.
 Chu Dinh Nghiem on verge of setting new record with Hanoi FC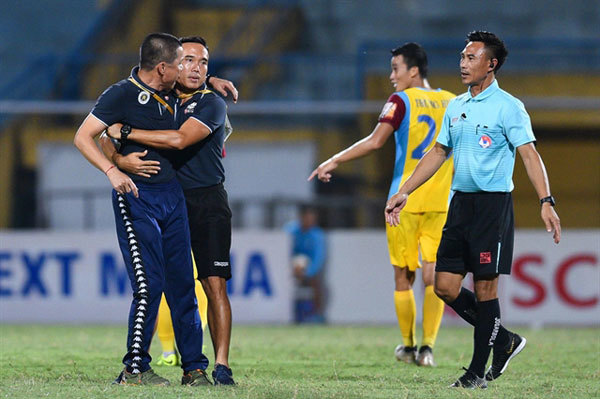 RED MIST: Coach Chu Dinh Nghiem (first left) is prevented from getting closer to referee Vu Phuc Hoan after Ha Noi drew with Khanh Hoa last week. He has been banned for today's game when Ha Noi host Hoang Anh Gia Lai. Photo zing.vn
Nghiem has been banned for two matches after a verbal altercation with referee Vu Phuc Hoan in the previous game between Ha Noi and Sanna Khanh Hoa on Saturday.
In extra time with the score 2-1 to his side, Ha Noi midfielder Pham Thanh Luong had chance to score a goal but was ruled offside.
Moments later, Khanh Hoa scored to level at 2-2, knocking the defending champions off top spot in the league.
After the final whistle, Nghiem rushed onto the field and confronted the officials.
In a post-match briefing he also slammed the officials', saying their incompetence affected the result.
A match supervisor ruled that Nghiem insulted the officials.
The 47-year-old yesterday posted an apology on his Facebook page, saying he regretted his behaviour.
"My uncontrolled behaviour affected the beautiful football that Ha Noi FC are trying to build. It's my personal mistake and I will take responsibility and accept all fines from the club and the organising committee," he posted on Monday.
Apart from his ban, Nghiem will be fined VND10 million (US$430) by the Viet Nam Football Federation while his club were fined VND25 million ($645) as their fans threw items onto the pitch.
Nghiem was previously sidelined for four matches for a similar incident in a match against Hoang Anh Gia Lai.
While the coach is missing, some of the national team's brightest stars will be taking part.
They include defenders Do Hung Dung and Do Duy Manh, and midfielders Nguyen Quang Hai and Pham Duc Huy of the hosts and striker Nguyen Van Toan and midfielders Tran Minh Vuong, Vu Van Thanh and Luong Xuan Truong of Hoang Anh Gia Lai.
Matches between the two sides often draw a lot of attention, given they are two of the clubs with the most supporters in the V.League.
Ha Noi are in the better form of the two, sitting second in the table and undefeated in four, including a 0-0 draw against Hoang Anh Gia Lai on May 31.
However, they will have to do without international Tran Dinh Trong and Nigerian striker Ganiyu Oseni due injuries.
Meanwhile star playmaker Nguyen Quang Hai has struggled this season with only two goals, and club president Do Quang Hien recently complained about his form.
Hien said Hai and some other players had not focused enough on football in favour of making money through advertising.
He said players were allowed to make money but the team needed them to keep their focus on football.
Hai's last goal was on April 21.
The defending champions will know if a win takes them back to the top of the pile at kick-off as league leaders HCM City take on SHB Da Nang at Thong Nhat Stadium two hours earlier.
On the other side, Hoang Anh Gia Lai, who will miss Nguyen Phong Hong Duy through injury, are second from bottom.
The Central Highlands side are in the midst of a disastrous run of form, with four losses and two draws in their last six matches.
In their recent five V.League meetings, Ha Noi have won three, drew one and lost one.
VNS