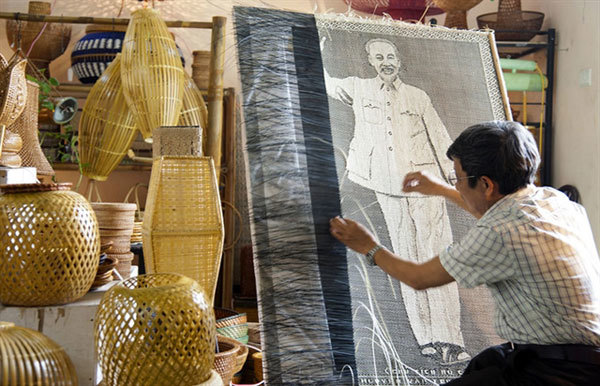 An artisan from Phu Vinh Bamboo and Rattan Village in the western outskirts of Hanoi works on a painting made from bamboo. File photo
Five of them got the People's Artisan title, the highest of its kind, and 72 got the title Meritorious Artisan. They are representatives from various handicraft villages in the city like villages of embroidery, ceramic, jewel, mosaic, bronze casting, and painting.
The four People's Artisans include artisan Ly Ngoc Minh – owner of trademark Minh Long ceramic; Tran Duy Mong – a jeweller from the central city of Hue; Chu Manh Chan – a lacquer artisan from Ha Dong District, Hanoi; Nguyen Quoc Su - a painting embroiderer from Khoai Noi Village Thuong Tin District, Hanoi and late ceramic artisan Vu Duc Thang from Bat Trang, Hanoi.
Among the 72 Meritorious artisans recognised this year, ao dai (traditional long dress) designer Lan Huong – the owner of the brand Áo dài Lan Hương - was among few female artisans to be honoured.
Addressing the ceremony, Vice President Dang Thi Ngoc Thinh highly appreciated the artisans for their contributions to Vietnam's handicraft sector and the economy.
She noted that the artisans are handing down their skills to the next generations.
"They have made considerable contributions to bringing made-in-Vietnam delicate handmade objects to the world, making the country among top three nations with the most handicraft and fine art objects for export," she said.
"Many products from handicraft villages have been chosen as the Government's souvernirs to heads of states when they visit Vietnam, serving external affairs tasks," she added.
"This ceremony marks the recognition of the Party and people for the great contributions of the artisans," she said.
The Vice President highly appreciated the ministry for holding the ceremony every year to praise artisans.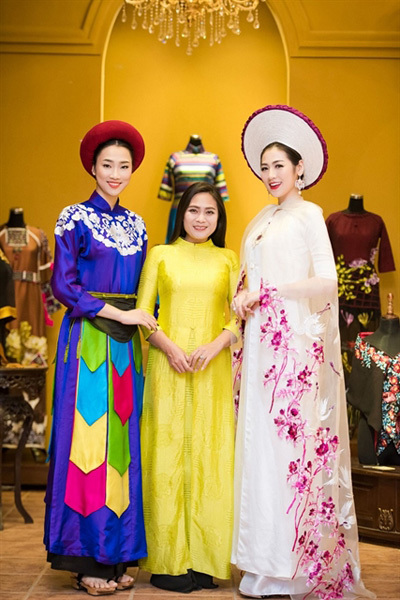 Designer Lan Huong (middle) poses for a photo with models, who wear her creations. Photo thethaovanhoa.vn
She ordered the ministry to continue to support artisans and handicraft villages to promote traditional handicraft production.
Minister of Industry of Commerce Tran Tuan Anh promised to continue the task and offer favourable policies to assist villages in selling products and support the artisans to promote their talents.
The Ministry of Culture, Sports and Tourism is considering files of nominees for the title People's Artisan and Meritorious Artisan in intangible culture field. VNS

Sơn Đồng Handicraft Village in Hoài Đức District, 20km west of downtown Hà Nội, has long been the source of some of Việt Nam's finest carved wood worship objects.

 A space for artisans from across the country to showcase their products and skills is the highlight will be the eighth Hue Traditional Craft Festival from April 26 to May 2.