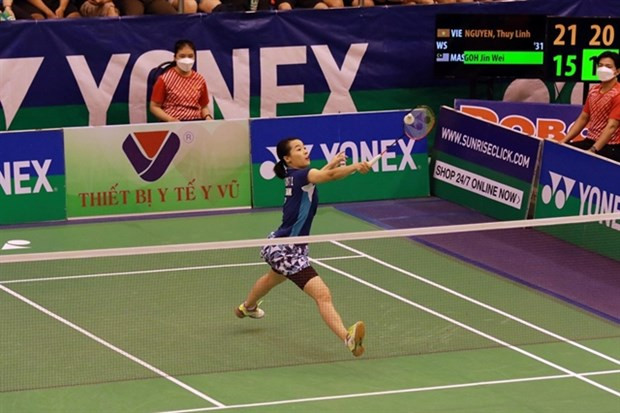 Nguyen Thuy Linh will be the highest seed of the hosts in the Ciputra Hanoi - Yonex Sunrise Vietnam International Challenge 2023 next week. (Photo: VNA)
This annual event will feature more than 300 local and international athletes from 17 countries and territories, who will compete in five categories, including men's and women's singles and doubles, as well as mixed doubles.
Tay Ho district's gymnasium will be the venue for this highly anticipated tournament.
The winner of each event will be awarded 1,200 USD, while the runners-up will get 750 USD. Cash bonuses will also be given to semi-finalists and quarter-finalists. Prizes total 15,000 USD.
"This is the 12th year of the tournament, which has made up its name as a prestigious event in the continent and has been highly appreciated by the Badminton World Federation and Asian Badminton Federation," said Pham Xuan Tai, Deputy Director of the Hanoi Department of Culture and Sports.
"We have received several high-ranking athletes to Hà Nội in the previous events, which was an official tournament of the BWF and delivered ranking points to participants," he said.
"To date, we have been in the final touches of the preparation and promise that athletes will be given the best conditions for their competition."
The event, which was cancelled for the last few years because of the pandemic, will feature many top athletes from around the world, including world No 37 Heo Kwaee Hee of the Republic of Korea, who is the No 1 seed in the men's side, and No 46 Sim Yu Jin of the Republic of Korea, the top candidate of the women's class.
The leading men's doubles are the Indonesian pair Gutama Sabar Karyaman and Isfahani Moh Reza Pahlevi, currently world No 50.
Vietnam's best badminton stars will also participate in the tournament.
World No 49 Nguyen Thuy Linh is seeded No 2 in the women's singles category, which is the highest ranking of the hosts.
Linh won the Yonex-Sunrise Vietnam Open 2022 last October and finished second in the Thailand Challenger last week. She is expected to play well on home ground and make the world's top 40.
Others are rising star Vu Thi Anh Thu and Olympian Vu Thi Trang in the women's side and former world No 5 Nguyen Tien Minh, as well as Le Duc Phat and Nguyen Hai Dang in the men's pool.
In the last edition in 2019, Firman Abdul Kholik of Indonesia won the men's singles, and Japanese Hirari Mizui took the women's singles titleIZUI.
The men's and women's doubles golds went to Indonesian Kenas Adi Haryanto, Rian Agung Saputro, Hiroki Midorikawa and Natsu Saito of Japan. Nita Violina Marwah and Putri Syaikah bagged the mixed doubles titles for Indonesia./. VNA