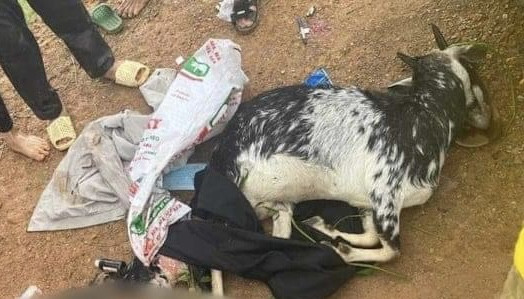 One of the goats that was shot by the three former policemen. — Photo thanhnien.vn
The three policemen, who had worked for the Đại Nghĩa Town Police in Mỹ Đức District, were accused of shooting and killing two goats of local residents and taking them away.
Former captain Nguyễn Văn Nhân, former lieutenant Bùi Đình Việt and former lieutenant Bùi Tiến Tùng last Monday went by car to the Mào Gà Mountain in Ái Nàng Village, An Phú Commune, Mỹ Đức District carrying an air gun to shoot birds.
While hunting, they shot and killed two goats of local residents and put them in the trunk of a car and went home.
When they reached the Ái Nàng Bridge in An Phú Commune, they were discovered and stopped by local people.
Immediately after receiving the information, lieutenant general Nguyễn Hải Trung, director of the Hà Nội Police, directed concerned units to urgently investigate and clarify the incident.
One day later, Trung signed a decision to strip their titles of People's Public Security of Nhân, Việt and Tùng. — VNS