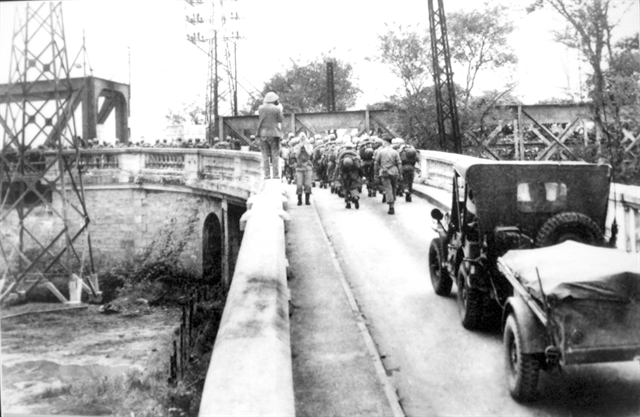 DEFEATED: French troups leave Hà Nội over Long Biên Bridge on October 10, 1954. This week marks the 65th anniversary of the capital city's liberation from the French. 
Jubilation at the victory has been seen every October 10 since 1954 when thousands of residents with flags and flowers turned out to streets to welcome home the Vietnamese People's Army to take over the capital from the French occupation forces.
This week marks the 65th anniversary of Hà Nội's liberation from the French on October 10, 1954. The spirit of a glorious and heroic time and pride at the current prosperous development are overwhelming the capital, so Việt Nam News offers readers an overview of its achievements and the love Hanoians have for their city.
More than a thousand years of defence and construction have shaped Hà Nội's heroic historical and cultural traditions. Jubilation at the victory has been seen every October 10 since 1954 when thousands of residents with flags and flowers turned out to streets to welcome home the Vietnamese People's Army to take over the capital from the French occupation forces.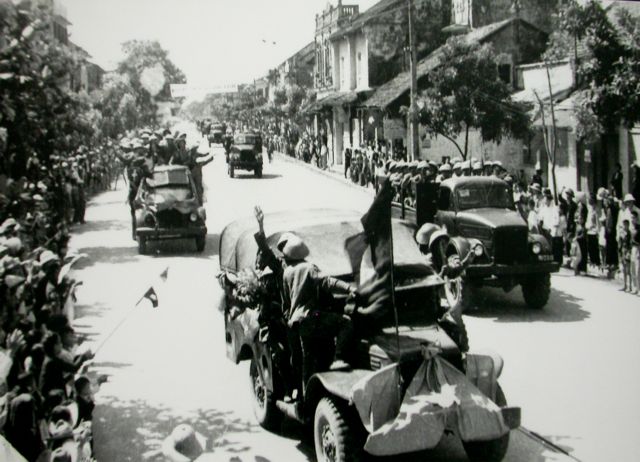 Hanoians with flowers and flagswelcome the Vietnamese People's Army on the day the capital city is liberated fromFrench occupation forces onOctober 10, 1954. 
National flags are hanging all over the capital ready to mark Hà Nội's 65th anniversary of liberation, which became a milestone for the capital's socio-economic development.
Retired army Colonel Hoàng Thúc Cẩn, 93, recalls the story of his five brothers being stationed at the five main entrance roads to the city during the liberation day 65 years ago.
"We were all born in the central province of Quảng Bình. Following my parents who joined the revolutionary fight against the French, we, five brothers, all joined the resistance army one after another," Cẩn said.
On October 10, 1954, his unit arrived in Đông Anh District then crossed Long Biên Bridge to the ancient brick gate known as Ô Quan Chưởng to reach the city centre together with other army units and met his four brothers.
His brother Hoàng Quý Thân found his post by chance.
"We rushed to greet and held each other in tears for a long time. We told each other many stories about the places we had been and the enemies we had fought. The next day we met my other brother Hoàng Thúc Tấn also by chance while we were patrolling near Long Biên Bridge. We were all choked up," Cẩn said. 
"Later the same day that we walked to Thê Húc Bridge to get to Ngọc Sơn Temple on Gươm (Sword) Lake. Surprisingly we met Hoàng Thúc Tuệ and Hoàng Thúc Cảnh there who were on duty patrolling around the lake.
"Our parents should be very happy to see Hanoians welcoming the army to liberate Hà Nội after nine years of a fierce struggle against the French." 
Now when autumn arrives, his family members meet at Ngọc Sơn Temple to celebrate the day the five brothers reunited 65 years ago.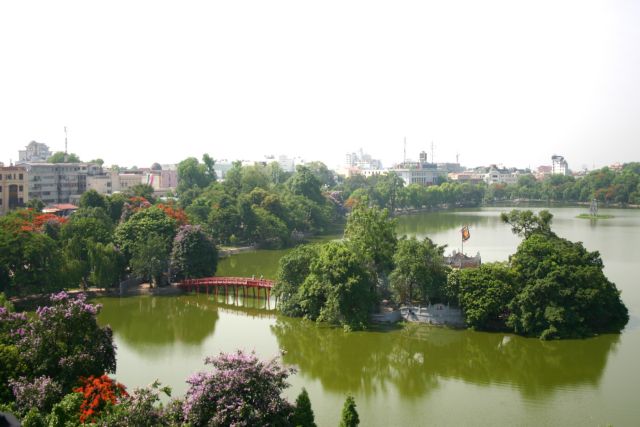 Hoàn Kiếm (ReturnedSword) Lakein central Hà Nội. 
Development
Since the first years of peace, the capital had overcome many difficulties to stabilise in the aftermath of the French and American wars and develop its economy by restoring agriculture, handicrafts and trade, according to a report from the Hà Nội People's Committee.
Trịnh Thế Khiết, chairman of the Hà Nội Farmers' Association, said during those war years farmers played a key role and contributed to a final victory.
"During peace time, farmers have also played a core role in building new style rural areas," Khiết said.
Young farmer Tạ Đình Huy from An Mỹ Hamlet in Chương Mỹ District has created a multi-purpose machine (known as 15 in 1) for agricultural cultivation.
Huy said his machine can plough, harrow, sow, weed, spray pesticides and pump water, along with many other functions, helping farmers to effectively cultivate their fields.
" As a member of the district farmers' association, I have had a chance to see different experiences from other localities where farmers use old methods with low productivity compared to other farmers around the countries who cultivate their land with machines that help them cut costs and boost profit," Huy said.
He said he spent days and nights conducting research to create a machine with 15 functions, and now it's been welcomed by his peers. "I've sold more than 3,000 machines at an affordable price.

As a result, last year Huy's product won the first prize of the "Inventor Programme, Living Green and Who is an Expert" competition held by Việt Nam Television.
He was also granted a certificate of "Young Outstanding  Person" by Prime Minister Nguyễn Xuân Phúc.
Nguyễn Quang Huy from Bắc Sơn Village in Sóc Sơn District is also an outstanding farmer for turning his barren land into a VietGAP (Vietnamese Good Agricultural Practices) farm that earns him very high profits.
The farmer said tea was the main crop in Bắc Sơn Village for a hundred years, but the quality of the old plants was decreasing.
"I always wondered why we worked so hard but were still poor. I tried to learn techniques from the internet and my friends in other tea farms in Thái Nguyên Province to grow organic tea under VietGap standards which require strict procedures in addition to good processing and storage to ensure quality," Quang Huy said.
As a result 1kg of his tea costs VNĐ350,000 compared with only VNĐ70,000-80,000/kg for normal tea.
Nguyễn Hữu Hồng, chairman of Bắc Sơn Village's Farmers' Association, said Quang Huy's model had been implemented widely across the village, creating a trademark for organic tea from Bắc Sơn and widespread interest, particularly among tea drinkers in Hà Nội and abroad.
These farmers and many others have helped the capital to hit its national target on building new-style rural areas set by the Government in 2010 to boost the development of rural regions.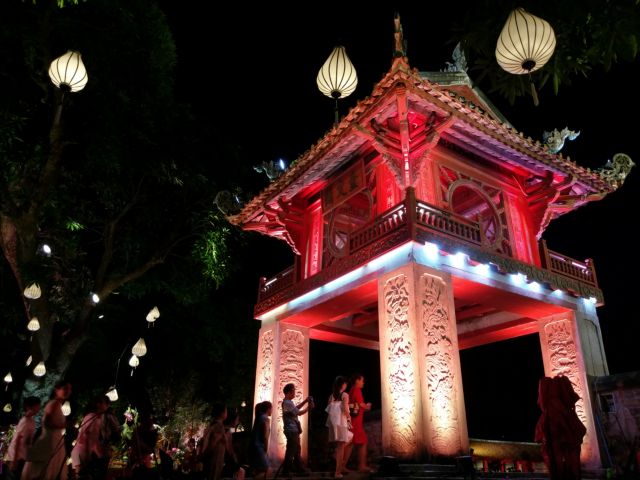 Khuê Văn Các (Constellation of Literature Pavilion) - part of Văn Miếu (Temple of Literature) – Quốc Tử Giám (First National University) complex,is a symbol of the city's thousand years ofhistory and culture, and an attractive destination for tourists.
Tourism boom
Over the past nine months, Hà Nội has welcomed 4.7 million international visitors, up 10.1 per cent compared to the same period last year, according to a report from the Hà Nội Tourism Department.
Local tourists reached 16.8 million during that same period, up 9.3 per cent, the report said.The
se visitors brought in nearly VNĐ75 billion, up 30.9 per cent compared to the same period last year.
Most guests said they enjoyed their time in Hà Nội, the report said. 
As a result Hà Nội is regularly voted one of the best tourist destinations in the world. Recently it was shortlisted as one of 19 candidates for the "World's Leading City Destination in 2019" by the prestigious World Travel Awards.
"This is an opportunity for Hà Nội to promote images of its history and friendly people, particularly the 'City for Peace' title bestowed by UNESCO," said tourism department director Trần Đức Hải, adding that the city's tourism sector is trying to welcome 28.94 million visitors this year, including 7 million foreign travellers.
According to Michael Croft from UNESCO Việt Nam the most impressive thing for visitors is the hospitality of Hanoians, and its beautiful landscapes and historical and cultural sites.
Hà Nội has a chance of becoming a City of Creation so UNESCO wishes to continue co-operating with the city to not only preserve its historical and cultural values but also develop the cultural industry for the modern world.
"This is a way for Hà Nội to maintain sustainable development, attracting talents for the city and jobs for youth," he said.
In fact, UNESCO is working with Hà Nội to preserve the ancient Đường Lâm Village and former Thăng Long Citadel while nominating Hà Nội to become the first city in Việt Nam to join UNESCO's City of Creation network.
Tô Văn Động, director of the Hà Nội Culture and Sports Department, said Hà Nội had successfully organised the US-DPRK summit which proved a great opportunity to popularise the "City for Peace" to the world.
Chu Phú Mỹ, director of the Hà Nội Department of Agriculture and Rural Development, emphasised that the sector would invest in high-tech to develop agriculture by co-operating with enterprises to improve infrastructure, transfer technology and promote sales.
A report issued by the Hà Nội People's Committee says over the past 10 years the city's GRDP increased by 7.41 per cent/year while per capita income had reached VNĐ86 million (US$3,910), up 2.3 times compared with 2008.
However since the city expanded its administrative border to become one of the 17 largest cities in the world in 2008, local authorities have faced great challenges with a rapidly increasing population that's leading to overcrowded urban infrastructure. The population reached over 8 million as of April 1 this year compared with 2.6 million in 1999.
Trịnh Thanh Phi from Cửa Đông Ward in Hoàn Kiếm District said: "Over the past 10 years apartment blocks have gone up in addition to the booming population that have led to traffic jams, pollution and damage to ancient architecture."

Solutions for upcoming years
The city will try to take advantage of Industrial Revolution 4.0 to develop its economy by applying science and technology and automation in production and business and focus on training a high quality labour force while developing new markets such as capital, real estate, securities and others, says the report.
By 2020 the city is expected to have industrial growth of 11.32 per cent, and GRDP of 7.4 per cent/year and per capita income of VNĐ126-129 million.
The aim is to become a socio-economic hub and the leading financial centre in the country, it says.
The report also says the city has already co-operated with more than 100 world capitals and cities including those in ASEAN, Europe and the Americas, creating a positive impression and high ranking among world countries for its comprehensive history, cultural identity and achievements. VNS