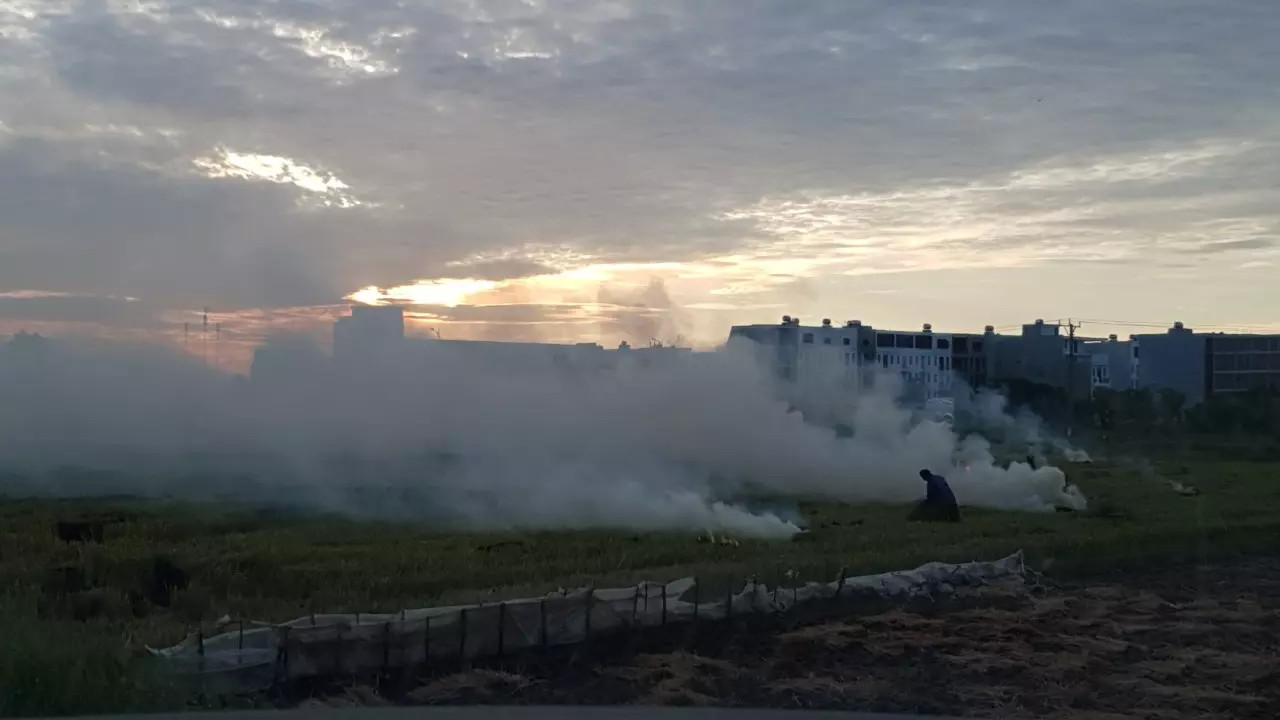 Pollutants, especially fine dust (PM2.5), appear at 6 pm and reach a maximum value between 9 pm and 1 am.
The fine dust content is low during the day, but daily dust content is still higher than allowed under Vietnamese standards. The index is highest in June when farmers harvest their crops.
In addition to straw burning, meteorological factors also increase air pollution at night.
Local authorities have released documents asking farmers to restrict the burning of straw and use agricultural by-products as materials for recycling, fertilizer production and mushroom cultivation.
In Hanoi, according to the Department of Natural Resources and the Environment, 20 percent of the total amount of straw was burned in the 2021 winter-spring crop (710,676 tons of fresh straw).
Gia Lam and Thuong Tin districts (50 percent), Thach That (45 percent) and Chuong My (37 percent) were the localities with the highest proportion of straw burned.
According to experts, the burning of 20 percent of total straw generates 179 tons of PM10 fine dust, 163 tons of PM2.5 and 23,000 tons of CO2, which are behind serious pollution as well as respiratory and cardiovascular diseases.
Hanoi had once set a goal that there would be no straw burning after harvests by 2020. However, the plan failed.
In 2019, local authorities released Directive 19 on measures to restrict pollution and improve AQI, which mentioned the burning of straw and agricultural by-products.
In 2020, Hanoi issued Directive 15 on strengthening state management over the burning of straw, agricultural by-products and other waste in order to mitigate the negative impact on the environment.
The city asked local authorities to design the roadmap for gradually reducing the proportion of straw to be burned and to stop this by 2021.
However, farmers still burned straw in 2021 with the proportion at 3.6 percent. The districts with the highest proportion of straw burning were Gia Lam (30.4 percent), Dong Anh (28.9 percent), Me Linh (14.3 percent) and Thanh Oai (4.8 percent).
At that time, the volume of fine dust generated from straw burning was 86.9 tons, while CO2 was 12,326.8 tons, CEO 973.9 tons and SO2 1,885 tons.
The smoke and fine dust from the straw burning spread to inner areas of the city and affected aviation security at Noi Bai Airport.
In April 2022, the Hanoi People's Committee once again released a directive, requesting strict implementation of this policy. It stressed that the leaders of localities where people still burn straw will be criticized and will not be considered for year-end commendation.
Vehicle emissions
Another factor causing air pollution is vehicle emissions. VEA deputy director general Nguyen Hung Thinh said in order to minimize pollution caused by cars and motorbikes, the Ministry of Natural Resources and the Environmen (MONRE) has set national environmental standards which serve as a basis for organizations and individuals to refer to when operating their vehicles.
Thinh said that VEA would cooperate with agencies to carry out investigations and surveys, as well as work with ministries, branches and local authorities to collect information to assess the implementation of these standards.
MONRE sets the standards to control emissions and the roadmap of application, while the Ministry of Transport (MOT) manages vehicle registration.
As of late 2021, Hanoi had set up 24 emission testing points for old motorbikes in circulation, given advice to people and helped them shift from old to new motorbikes.
The program is running on a trial basis in eight districts, including Hoan Kiem, Ba Dinh, Hai Ba Trung, Dong Da, Cau Giay, Thanh Xuan, Ha Dong, Long Bien, Nam Tu LIem, Son Tay and Thuong Tin.
According to the director of the Environmental Quality Management Department, Le Hoai Nam, this important activity is a basis for researching and proposing solutions to improve air quality in Hanoi.
Kien Trung