Hanoi FC win national cup for a third time with two masterpieces
Hanoi Football Club seals the second title of the season after beating Topenland Binh Dinh in the final of the National Cup 2022
Hanoi Football Club on November 27 claimed the National Cup 2022 for the third time in a row after beating Topenland Binh Dinh by 2-0 with two long-distance strikes.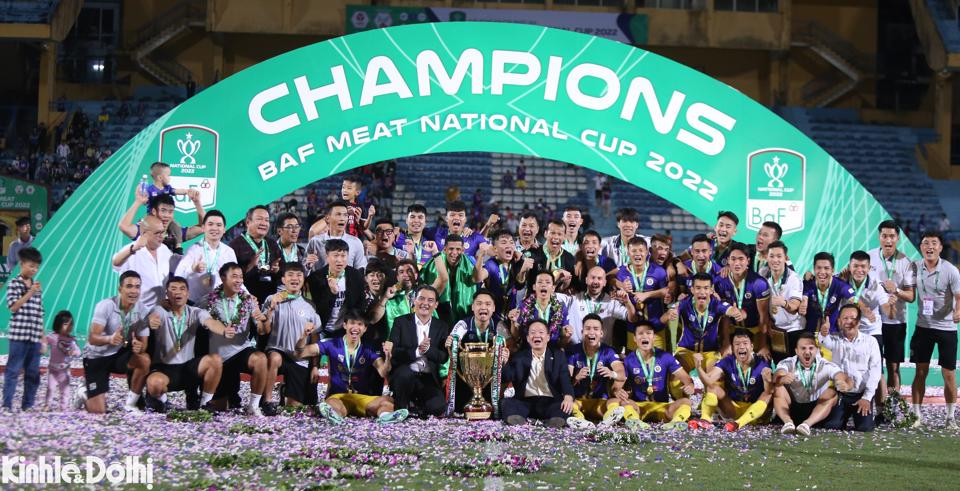 Hanoi FC players and coaching staff celebrate the third National Cup in three years. Photo: Ngoc Tu/The Hanoi Times
Hanoi FC won the national cup in 2019 and 2020. The competition was canceled in 2021 due to the Covid-19 pandemic.
Topenland Binh Dinh had the most control over the game and created several opportunities, but the attacking players failed to find the net.
In the 48th minute, Hanoi FC's left wingback Doan Van Hau (number 5) broke the deadlock as he shot a 30-meter screamer to the left top corner of Topenland Binh Dinh's net.
After the goal, Topenland Binh Dinh reshaped and pushed the defensive line higher to seek the equalizer.
In the 80th minute, Truong Van Thai Quy (number 74) sealed the win for Hanoi FC with a 70-meter shot as he found Topenland Binh Dinh's goalkeeper leaving too much space from the goal.
With the two masterpieces, Hanoi FC won the national cup three consecutive times and became the first club in the competition's history.
"I found the defenders of Topenland Binh Dinh did not close up on me, so I thought a long shot would be surprising," Hau, who scored with a screamer, said.
"The luck was on me. But we deserve the cup today," he said.
Quy said that his 70-meter goal is one of the best goals in his career.
"I found the keeper standing a bit away from the goal post, so I took the chance," he said at a post-match interview.
The National Cup 2022 is the second title that Hanoi FC win this season after V-League 2022.
Source: Hanoitimes