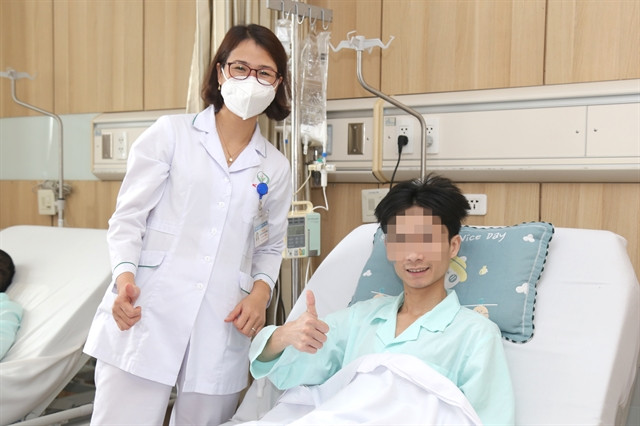 A patient recovers after receiving an organ from patient K. — Photo courtesy of the hospital
Doctors at the Vietnam-Germany Friendship Hospital have successfully performed the 100th multi-organ transplant from a brain-dead donor, marking a new step forward for the hospital and Việt Nam's health sector, said hospital director Prof. Trần Bình Giang on Thurday.
"This is the 100th multi-organ transplant from a brain-dead donor at Vietnam-Germany Friendship Hospital, also the largest amount of tissue and organs that have been donated," said Prof. Giang.
"We would like to express our deep gratitude to the patients who received organs, from the doctors, the medical staff doing the organ donation work to the families of those who donated their organs for life. This is a noble gesture and a humane action that needs to be spread," said Prof. Giang.
The donor was a brain-dead patient, named D.M.K, 32, living in Bắc Giang Province.
On March 6, K was in a traffic accident and was urgently transported to Việt Đức Friendship Hospital due to his critical condition. Upon hearing the doctor's diagnosis, K's spouse and sibling were stunned. The medical professionals proposed organ donation after brain death, which K's family deliberated on and ultimately consented to. Despite the hospital staff's tireless efforts in administering intensive treatment and resuscitation for one day, K's family did not witness a miracle and ultimately lost their loved one.
The Organ Transplant Coordination Centre's Director, Prof. Dr Nguyễn Quang Nghĩa, stated that a major surgery was performed at approximately 2:30pm on March 7, where the brain-dead patient generously donated their heart, liver, two kidneys, four blood vessels, 14 tendons, and two cartilages.
Utilising these organs, the hospital successfully conducted a heart transplant for a 53-year-old woman with end-stage heart failure in Bắc Giang Province, a liver transplant for a 33-year-old man with biliary cysts in Ninh Bình Province, and a kidney transplant for a 42-year-old man with end-stage chronic renal failure in Hải Phòng City. The remaining kidney was transplanted to a 48-year-old male patient also located in Hải Phòng City, as reported by Prof. Nghĩa.
This marks the ninth instance where a brain-dead patient from Bắc Giang Province has chosen to donate their organs, solidifying the region's position as the leading province in Viet Nam for the highest number of organ donors after brain death.
Shortage of organ and tissue donors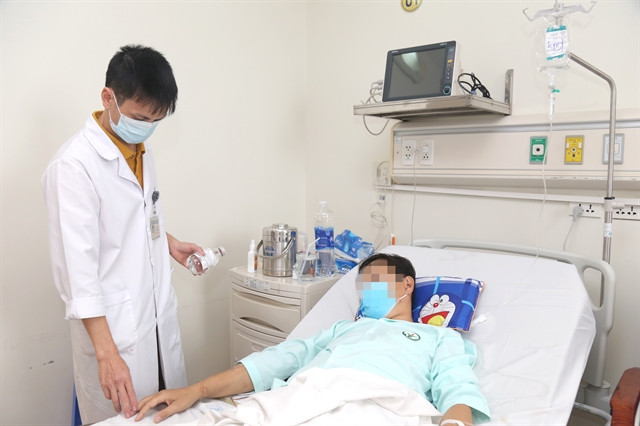 A man who received the donated organs of patient K. — Photo courtesy of the hospital
Since the first organ and tissue donation from a brain-dead patient in 2010, there have been 100 families who have agreed to donate their loved one's organs when suffering from traumatic or other diseases at the hospital. From 100 brain-dead donors, Vietnam-Germany Friendship hospital's doctors have successfully performed 50 heart, 83 liver, 157 kidneys, six lung transplants and many other tissue transplants.
According to statistics from the National Coordination Centre for Human Organ Transplantation, 170,000 people nationwide have registered to donate organs and tissues. Nationally, in the past 13 years, there have been about 150 cases of brain death from organ donation, this is a very small number compared to the number of brain-dead people statistically at medical facilities nationwide.
According to Prof. Giang, the biggest challenge of transplants in Việt Nam is not the technical difficulty, but the scarcity of sources of organs and tissues. Currently, 95 per cent of organ transplants in Việt Nam were conducted from living donors, and only 5 per cent of transplants were from brain-dead donors.
"The demand for organ transplants is huge in Việt Nam. In addition to the Vietnam-Germany Friendship Hospital, there are only 50 organ transplants performed in other medical facilities, bringing the country's total number of cases to nearly 150, which is still a very modest number. There are many patients that have died and can't wait until they have organs for transplant," said Prof. Giang.
Over the past 30 years, Việt Nam has had more than 6,500 successful organ transplants, including more than 6,000 kidneys, 384 liver and 59 heart transplants. Việt Nam currently has 16 kidneys, five livers and three heart transplant facilities. — VNS