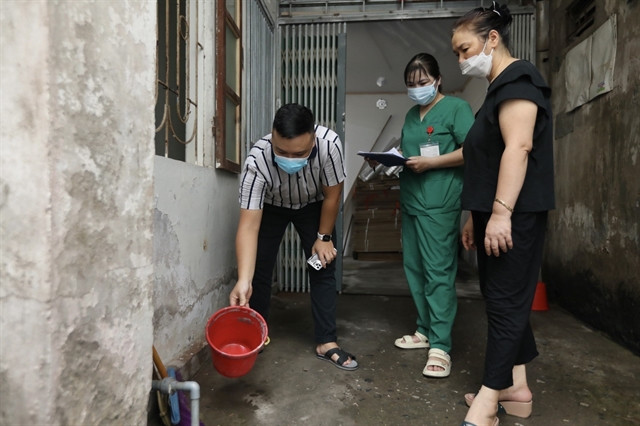 A medical worker (centre) gives guidance to a household in Hoàng Mai District, Hà Nội to kill larvae to prevent dengue fever. — VNA/VNS Photo Minh Quyết
The Hà Nội CDC predicts that the dengue fever situation will be complicated in the near future because the epidemic is appearing earlier than in previous years.
The General Department of Preventive Medicine under the Ministry of Health said that this year, Hà Nội had 3,180 dengue fever patients, an increase of 5.7 times compared with the same period last year.
The E Hospital receives about 20 cases of dengue fever per day.
At the National Children's Hospital, many children are re-infected.
A typical case is V.H., 8 years old. He had dengue fever four years ago. He has now been readmitted to the hospital with a high fever, unresponsiveness to antipyretic drugs, body aches, vomiting and headache.
H. had facial hemorrhagic fever spots, decreased platelets and increased liver enzymes.
He was diagnosed with a severe condition.
Nguyễn Văn Lâm, head of the Centre for Tropical Diseases under the National Children's Hospital, told the Tuổi trẻ (Youth) newspaper that H. must be treated for 10 days before his condition stabilised.
Doctor Đào Văn Cao, from the E Hospital, said that when people had a sudden high fever, they needed to go to a medical facility.
Dengue fever can change from mild to severe, so patients must be examined and have an appropriate treatment plan.
Every year, dengue fever usually breaks out between October and December in Hà Nội. However, this year, the number of cases has increased earlier than normal.
Nguyễn Văn Dũng, head of the Entomology Department under the National Institute of Malaria, Parasitology and Entomology, said that Hà Nội could be the country's hotspot for dengue fever due to its high population density and rapid transmission rate.
Cases might continue to increase, especially in hot and rainy weather, which provides good conditions for the development of mosquitoes, he said.
Many families buy their own insecticides to prevent dengue fever. But Dũng advised people not to buy chemicals for spraying themselves. When they need to kill mosquitoes, they should contact local preventive health facilities.
They should not buy and self-use chemicals of unknown origin to avoid adverse health effects and cause mosquito resistance.
Slight increase
A report from the HCM City Department of Health showed that from the beginning of this year, HCM City has had more than 10,000 cases of dengue fever.
Every day about 40-50 people are hospitalised in the city.
The HCM City CDC said the number of dengue fever cases in the latest week increased by 18.8 per cent compared to four weeks ago.
Districts with a high number of cases include District 1, 8, and Bình Chánh.
A typical case is N.C.D., 2 years old, in Bình Thuận Province.
He suffered from dengue shock, respiratory failure and severe liver damage.
He was transferred to the HCM City Children's Hospital after four days of intensive treatment at the local hospital. Now he is in a stable condition.
Nguyễn Minh Tuấn, head of the Dengue - Hematology Ward at HCM City Children's Hospital No 1, said that the department was treating about 25 children with dengue fever, of which severe cases account for about 10 per cent.
More funds
The Ministry of Health (MoH) said that from the beginning of this year, the country has had 57,295 cases of dengue fever, of which 13 died.
The number of cases and deaths is forecast to increase.
The MoH asked provincial and municipal health departments to strengthen epidemic prevention and control measures.
They should report to local people's committees to arrange and supplement funds for dengue fever prevention. — VNS