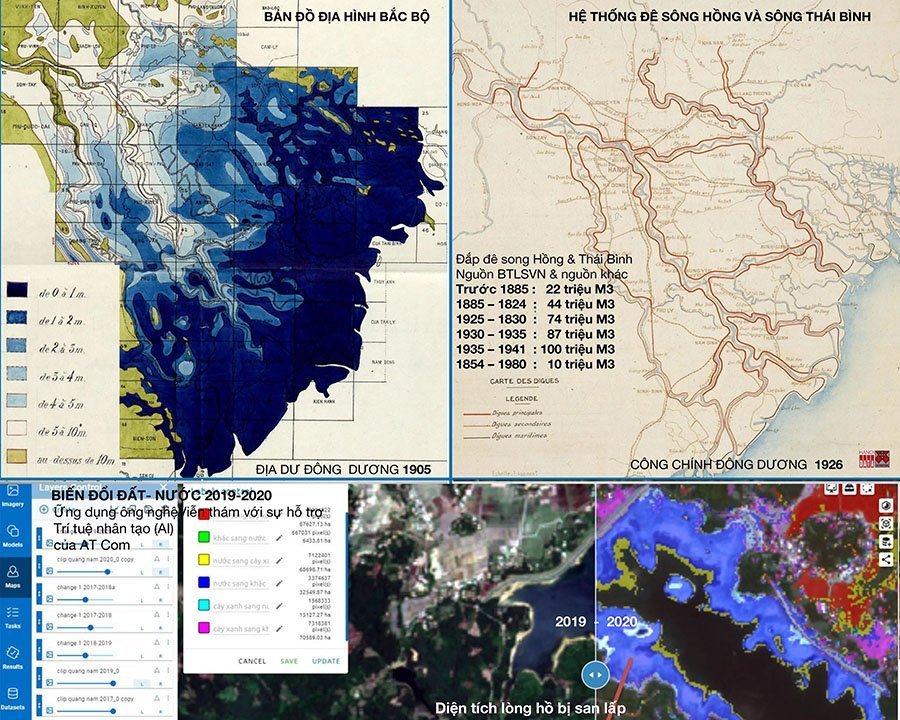 A map showing the topography and dyke system of Hong – Thai Binh basin
In 2022, Hanoi will adjust the general planning according to the Law on Urban Planning, and capital planning in accordance with the 2019 Law on Planning. What does it need to do to ensure schedule observation and quality of the planning?
On January 24, 2022, the Politburo issued Resolution 06 on planning, construction, management and sustainable development of urban areas in Vietnam until 2030, with a vision towards 2045.
The resolution says that urban planning is still "slow in innovation, lacking in vision, low in quality; there are still problems in implementation; in many localities, the adjustment of the planning is still arbitrary; the qualifications and capacity of most urban management officials, civil servants and public employees are still weak".
In case of Hanoi, the problems can be found from planning to implementation.
After more than 10 years of implementation of the general planning approved by the Prime Minister in 2011, "the investment is still fragmented and not synchronized, while the resources of the city itself and resources from society for urban development have not been promoted and exploited well. Meanwhile, violations in land management in urban development are complicated."
The low quality of planning is attributed to the low quality of data and unsatisfactory drawing up of the planning.
In March 2020, Hanoi started capital city planning in accordance with the 2019 Law on Planning. However, multi-sector integrated planning was unfamiliar to both the management apparatus, implementation agencies and consultants. Therefore, after two years (2020-2022), the capital city planning has yet to be approved.
Lessons from Japan
Since 2015, many Vietnamese groups of officials have come to Japan to learn experience in planning and have been introduced to the multi-sector integration method.
The quality of planning depends on diverse information collection and analysis, on which agencies calculate and choose optimal solutions, not unfeasible scenarios.
In 1949, Japan enacted the Survey Act to ensure the accuracy and continuous evolution of the national data treasure, run by the Geospatial Information Authority of Japan which coordinates with all ministries, branches and localities.
Since 1960, Japan has been cooperating globally to modernize the national map. In 1971, the Government helped the national map committee, an organization which gathers leading experts in different fields, to draw up a set of national maps published in 1977 and updated once every five years.
As it is national data, the maps with A2 size of 351 pages and 276 thematic maps describing 15 different fields (from natural conditions, development, conservation, society and culture) are edited, inspected and printed under a strict process.
Reliable data
From 1886 to 1926, French engineers collected materials to draw up the topographical/hydrological map of the Red – Thai Binh basin, which was the basis for designing the embankment system and conduct large-scale construction. The total volume of earthworks was 305 million cubic meters (1885-1941).
However, it is difficult to find the flood prevention and control map and the dyke planning of Hong and Thai Binh Rivers' basin (approved by the Ministry of Agriculture and Rural Development (MARD) in 2016), and the map of water resources on Hong and Thai Binh basin approved by the Ministry of Natural Resources and the Environment (MONRE) in 2018.
However, many technology firms have used high-quality remote sensing maps and artificial intelligence (AI) to provide modern high-accuracy maps, helping provide reliable forecasts about flooded areas, drought risks and water demand for irrigation and people's daily use.
In urban transport, they have used digital technology to analyze the current situation, point out disadvantages and conflicts that cause congestion, or predict the benefits from optimal urban traffic flow organization models.
Hanoi has to draw up the capital city planning while human resources are not available (officers have never been trained), and integrated data are lacking. In the immediate future, Hanoi needs to exploit the capacity of organizations and individuals capable of mastering modern technology to effectively implement capital planning with the highest quality. 
Tran Huy Anh (Hanoi Architect Association)

The capital city of Hanoi will spend a total of over 1.8 trillion VND (79.1 million USD) on mitigating traffic congestion and ensuring traffic safety in the city for the 2021-2025 period.

The Hanoi Urban Planning Institute (HUPI)'s plan on underground space development will be appraised by the Hanoi Authority for Urban Planning & Architecture and submitted to the municipal authorities.