Hanoi parents worried about students' high school entrance exams
Hanoi has announced its plans to enroll 72,000 students for public schools, which means that only 55.7 percent of secondary school graduates will obtain 'tickets' to enter public high schools.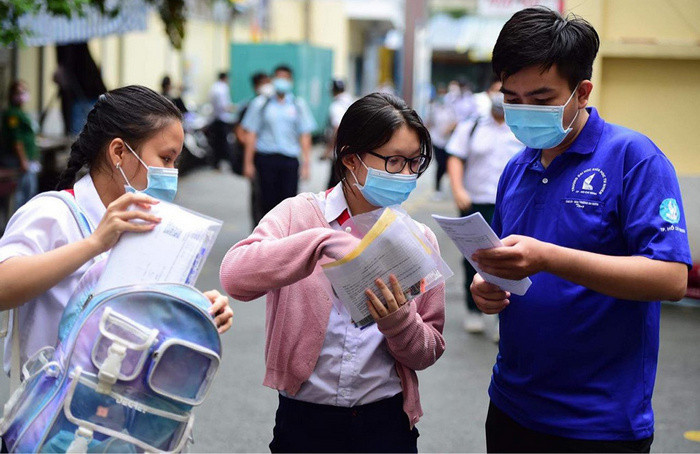 The day of July 9 in 2022 will never be forgotten by Nguyen Thu Anh, a mother in Nam Tu Liem district in Hanoi.
It was the day the Hanoi Education and Training Department announced the benchmark score for students to enter public high schools. With a 33 score for four exam subjects, Anh failed the exam to enter all three schools for which she registered, including Xuan Phuong High School (which required the benchmark of 35.5 scores), My Dinh (39.5) and Hoai Duc A (34).
Both Anh and her husband work as factory workers in Tu Liem IZ with a total income of over VND10 million a month. The modest income is used to feed five mouths and pay for medicine. They hope that their children can go to public school to ease their financial burden.
However, as the daughter failed the exam, she had to go to vocational school.
According to the Hanoi Education and Training Department, in the 2021-2022 academic year, the city had 129,000 secondary school graduates, an increase of 19,000 students over the year before.
About 60 percent of the students were enrolled in public high schools, and 21 percent went to private high schools, while 10 percent went to continuation schools and 9 percent to vocational schools.
In the 2022-2023 academic year, the city expects to have 129,210 secondary school graduates. About 102,000 students will be enrolled in high schools in the 2023-2024 academic year (up by 1,000 students over the previous year), including 72,000 students in public schools, or 55.7 percent, a record low rate in the last few years.
The remaining students will go to private schools, continuing education schools and vocational training establishments. This means that one in every two students will have to go to non-public school.
The news has caused worries to parents.
Nguyen Thuy, a parent in Cau Giay, said she and her husband remain indecisive about choosing high schools for their daughter. As the number of secondary school graduates soared this year, the competition will be stiff and Thuy is not sure if her daughter should register to study at Yen Hoa or Cau Giay High School as initially planned, because the two schools always require high benchmarks.
"My daughter is a good student, but I heard that the number of examinees is very high this year, so I feel a bit worried," she said.
Le Trang in Thanh Xuan district told VietNamNet that she won't take risks by applying for a demanding school. Her daughter has to pass the exam to enter a public school at any cost, because she won't be able to afford the tuition if her daughter has to go to a private school.
"The tuition set by private schools is too high compared with our incomes. My daughter needs to 'play it safe' by choosing public schools which don't require overly high benchmarks," she explained.
Nguyen Trung Anh, a parent in Ha Dong district, complained that the proportion of students entering public schools is getting lower.
"So many multi-storey buildings are arising every year. Every apartment building has a population equal to one commune or one ward. Meanwhile, the number of public schools has not increased proportionally," Anh said.
Parents have to struggle to scramble for seats at public schools. In theory, Vietnamese students always have opportunities to access a higher education level. If they fail to enter public high school, they can apply for private high schools or vocational schools. However, tuitions set by private schools is unaffordable for many families.
This explains why Vietnamese students have to prepare for the high school entrance exam very early. Right when they enter secondary school, they have to begin preparing for the exam by attending extra classes. Analysts commented that the high school entrance exam is as tough as the university entrance exam.
Hoang Thanh