Hanoi pilots smart bus cards
VietNamNet Bridge – The use of smart bus cards was piloted on Giap Bat-Cau Gie route in Hanoi starting on October 6 in an effort to encourage local people to use public transport
VietNamNet Bridge – The use of smart bus cards was piloted on Giap Bat-Cau Gie route in Hanoi starting on October 6 in an effort to encourage local people to use public transport and ease traffic congestion in the capital city.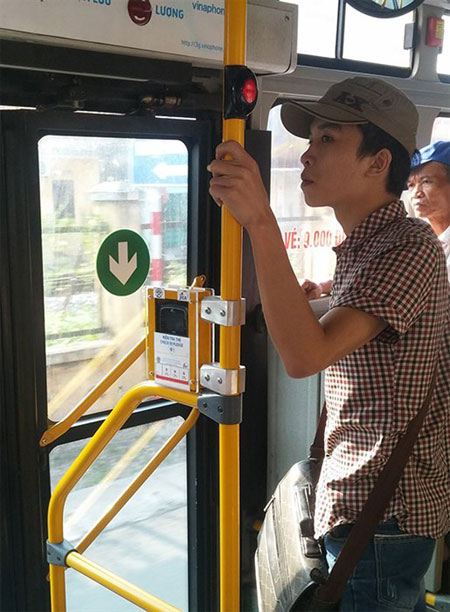 A passenger stands by a card check-in device installed on a bus on the Giap Bat-Cau Gie route in Hanoi on October 6. The capital city has started a pilot scheme for the use of smart bus cards for buses on this route
The introduction of smart bus cards is part of a project to improve the capital city's public transport which is funded by the Japan International Cooperation Agency (JICA).
Murashima Eiichi, representative of JICA, told a meeting in Hanoi last week that as many as 200,000 free cards will be given to the commuters buying monthly bus fares. The validity of these cards can be extended for use in the following months at 41 ticketing offices in the city.
Takagi Machimasa, chief advisor to the project, said piloting these smart cards aims to develop a system software program for issuing and managing the cards and take comments from local commuters and bus operators.
Hanoi is currently building many urban railways and bus routes. If smart cards can be used for many forms of public transport at the same time, they will help the commuters reduce time to buy tickets.
According to the JICA, there is no company in Vietnam that can manufacture smart bus cards with high security. However, a Japanese card-making firm has agreed to transfer technology to a local company that is expected to manufacture the cards next year.
It may take three to five years to popularize smart bus cards across Hanoi. Afterwards, these cards will be used for other means of public transport.
SGT/VNN