Hanoi is actively taking steps to transform itself into a modern and civilized city, with the latest effort being the initiative to design a distinct urban area along Ly Thuong Kiet Street in Hoan Kiem District.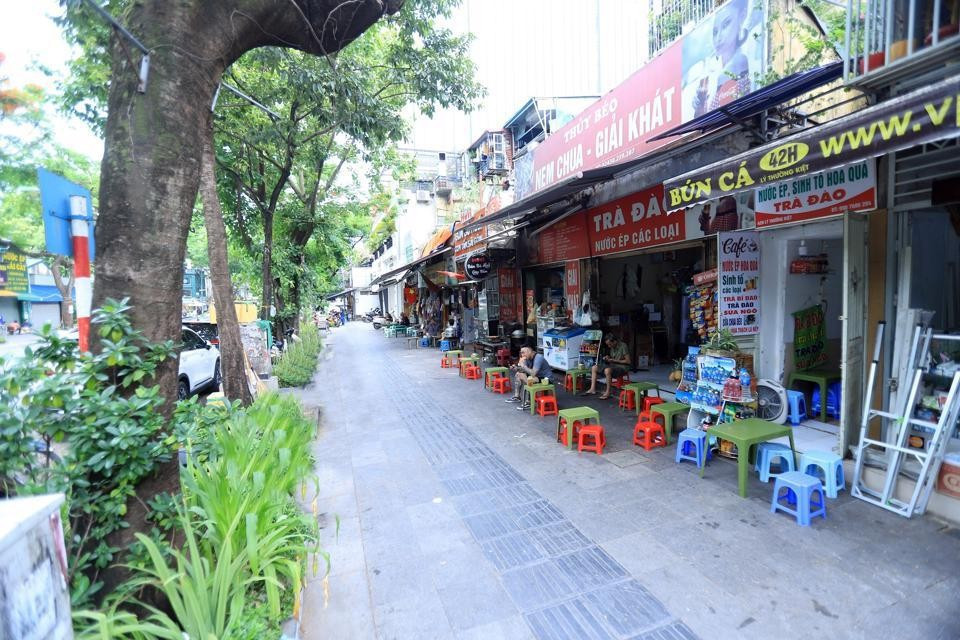 The Ly Thuong Kiet Street in Hoan Kiem District would undergo a major transformation. Photo: Lai Tan/The Hanoi Times
The proposed design, on a scale of 1/500, encompasses wards of Cua Nam, Tran Hung Dao, Hang Bai, and Phan Chu Trinh.
This decision has received widespread public support. Despite the relatively modest length of the road, approximately 1.8 kilometers, the urban design study, and planning will cover an area of 41.16 hectares, of which 30.26 hectares will be used for actual urban design.
The Hanoi People's Committee stated that the project's objectives are to realize the general construction plan for Hanoi until 2030, with a vision until 2050, as endorsed by the Prime Minister.
A key aspect of the project is its proposal to harmoniously organize the landscape architecture, ensuring that the new development area fits into the existing architectural structure of the historic French Quarter.
It also aims to create seamless connections between the surrounding architectural and landscape spaces while preserving and promoting historical, cultural, and social values. The project also includes solutions to enhance the urban areas in the capital city's vicinity, with a focus on preserving and highlighting valuable structures.
The plan also considers the use and management of roadways and sidewalks to meet the needs of businesses and commercial activities, and to provide adequate parking for various modes of transportation.
Furthermore, in terms of architectural design, close coordination and review with local authorities is necessary to address cases of land unsuitable for construction.
This will prevent the proliferation of excessively narrow buildings and ensure architectural harmony along the entire route. In addition, the city would decide on the location and design of public spaces in urban areas, such as monuments, gardens and squares. At the same time, specific zoning should be established to protect cultural heritage sites and relics, preserving their significance within the urban landscape.
Effective legal framework necessary for sustainable growth
Experts have suggested that such an initiative should be the way forward for Hanoi to promote efficiency in urban management. However, in the longer term, there is an urgent need for Hanoi to establish a robust and comprehensive legal and institutional framework, supported by decentralization and more specific and groundbreaking policies, which in this case is the early
This is essential to meet the demands of rapid, sustainable development, extensive international integration, and enhanced competitiveness at regional and global levels.
Architect Dao Ngoc Nghiem, Vice Chairman of the Vietnam Urban Development and Planning Association, said the revision of the Capital Law should focus on creating a more systematic legal basis to improve the quality of urban planning.
"At the same time, there should be strict adherence to planning discipline and management while promoting the construction of integrated infrastructure to facilitate smart urban development and management processes," Nghiem said.
He also emphasizes the importance of adopting an innovative urban governance model that is conducive to delegation and decentralization of management responsibilities.
"Hanoi needs a governance model that has sufficient capacity for effective management," he added.
Tran Ngoc Chinh, Chairman of the Vietnam Urban Development Planning Association, stressed the importance of reviewing and re-evaluating Hanoi's general planning, given its status as a special city and the country's capital.
This process, which takes place every 10 years, is essential for strategic forecasting in various sectors, including industry, economy, and society, Chinh said.
The general plan thus serves as a roadmap for urban construction and development and lays the foundation for integration within the capital planning period from 2021 to 2030, with a vision to 2050, he noted.
Source: Hanoitimes