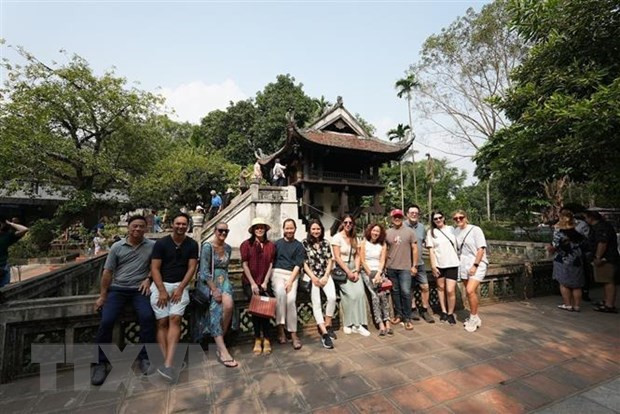 Tourists visit One-pillar pagoda in Hanoi (Photo: VNA)
According to Deputy Director of the Hanoi Promotion Agency Nguyen Mai Anh, the agency has coordinated with relevant departments and agencies to boost investment, trade and tourism promotion activities. Typically, the Hanoi Tourism Festival 2023 from March 23-26 at the pedestrian zone of Hoan Kiem Lake attracted over 50,000 visitors.
The centre also organised the city's pavilion at the Vietnam International Travel Mart (VITM Hanoi 2023) with the theme "The Legend of Thang Long - A Thousand Years of Heritage", introducing to visitors prominent cultural tourist routes connecting downtown Hanoi with Co Loa Citadel, Bat Trang pottery village, Phu Dong Temple, Giong Soc Son Temple, Huong Pagoda, Ba Vi, Thay Pagoda; and outstanding cultural tourism products.
From now until the end of 2023, the centre will carry out activities such as producing a film named "Hanoi - travel to love", participating in the International Tourism Expo (ITE) in Ho Chi Minh City, organising Hanoi Autumn Festival and Hanoi Food Festival, and joining major tourism fairs such as International French Travel Market Top Resa from October 3 - 5, JATA Tourism Expo Japan from October 26 - 29, and World Travel Market (WTM) London from September 7-9.
To create momentum for the tourism sector's development, the municipal Tourism Authority proposed the municipal People's Council and People's Committee pay attention to directing, inspecting and supervising to speed up the progress of key projects such as: Horse racing field multi-purpose entertainment complex in Soc Son district, and a National Exhibition Centre in Dong Anh district to soon create new products and attract more tourists to the capital.
It also recommended to the Ministry of Culture, Sports and Tourism economic and administrative procedure support policies to help travel businesses participate in international and domestic tourism events and fairs, and boost digital transformation at enterprises, contributing to increasing labour productivity and international integration.
This year, Hanoi aims to welcome 22 million tourists, up 17.6% year on year, earning 77 trillion VND (3.27 billion USD), a rise of 28.2%.
Hanoi has been ranked first in the list of the top 20 trending cities for solo travel while Ho Chi Minh City ranked sixth, according to a report by UK-based adventure travel company Explore Worldwide.
By analysing Google search data from the last two years, the company has determined the places that are seeing the biggest uplift in solo travel online searches.
Hanoi saw a 946% rise in year-on-year solo travel searches, followed by Bangkok (816%), China's Taipei (692%), Seoul (533%), and Phnom Penh (500%).
According to the Explore Worldwide, when in Hanoi – an ancient and vibrant city, solo travellers can dive into the colourful busy streets of the Old Quarter, rubbing shoulders with the locals in a maze of narrow streets filled with shoppers, traders, cafes and restaurants.
"Hanoi explodes with history and culture, from the Ho Chi Minh Mausoleum which allows visitors to pay respects to the man who led the country to independence, through to the Temple of Literature dedicated to the teachings of Confucius," it said.
Interest in solo travel in Hanoi has jumped up a massive 946% over the last year. Vietnam opened its doors to tourists post-COVID in early 2021, but Google searches around 'Hanoi solo travel' at this time were virtually non-existent.
However, in the last 12 months there has been a steady month-on-month increase for 'Hanoi solo travel' searches – and whilst the number of searches is still not super high compared to other cities, the leap in interest marks Hanoi out as a trending 'one-to-watch' city for solo adventure.
Source: VNA