Hanoi police arrest student hackers charged with theft of US$214,000

Four university students in the northern province of Thai Nguyen, who were found to have carried out cyberattacks to steal nearly VND5 billion (US$214,000), have been arrested.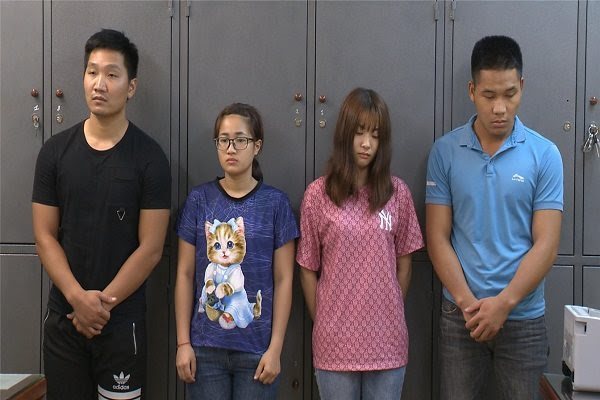 A group of student hackers in northern Vietnam has discovered security holes in the databases of various companies and hacked into hundreds of websites since 2013
The Ministry of Public Security said in a statement on May 31 that its investigators had detected the gang using high-tech methods to steal money from businesses that operate intermediary payment services and e-wallets.
Based upon available evidence, investigators caught the students committing their unlawful acts, kept them in custody, and searched their houses in the nearby provinces of Quang Ninh and Vinh Phuc on May 29.
The suspects are two females Nguyen Thi Anh from Vinh Phuc, Nguyen Thi Bao Thoa and Do Tuan Anh, all three aged 23, and an older brother, Do Van Phi, 24, from Quang Ninh. They are students at Thai Nguyen University.
Investigators seized cash and savings books worth over VND3 billion (US$130,000), 30 ATM cards from various banks, six computers, four iPhones, dozens of Nokia phones with disposable SIM cards, and other documents related to their alleged crimes.
All four have admitted their crimes to the police. As the mastermind, Do Tuan Anh said he had discovered security holes in the databases of many companies and had hacked into hundreds of websites since 2013.
Having gained control of the websites' administrative accounts, he and his accomplices added fake balances to accounts the gang had created beforehand, and used these to buy the details of various top-up cards.
The gang then got in touch with top-up card agents and stores through their multiple 'trash' mobile phones to sell the card details at discount rates, much higher than the market levels. The money would be then transferred to their bank accounts under the names of other people, since they bought these accounts from others.
Anh also claimed that he had hired foreign hackers to find the websites' security holes and take control of them for him to steal their data.
The gang was found to have gained access to the databases of five companies between September 2018 and April 2019, stealing card information about tens of thousands of mobile and game top-up cards, worth roughly VND5 billion (US$214,000).
To prevent such high-tech crimes, the ministry has urged individuals, organizations, and businesses to be more vigilant, improve information security on their websites, emails and electronic devices, set up multiple-step login processes and arrange receipt of early warnings to avoid being taken advantage of by cyber criminals. SGT
Van Ly
Vietnam can become a cybersecurity powerhouse thanks to its world-class cybersecurity human resources and the dream to become a powerful nation, local media quoted Minister of Information and Communications Nguyen Manh Hung as saying.  

The Viettel Cyber Security Company, a subsidiary of the military-run industry and telecom group Viettel, made debut in Hanoi on April 12.  

Organisations taking a business-driven cybersecurity approach to their digital initiatives achieve better outcomes and outperform their peers, according to PwC's May 2019 Digital Trust Insights Survey.