Hanoi police start attaching parking tickets on illegally parking cars
Hanoi's traffic police started attaching parking tickets to car windshields of illegally parked vehicles on Tuesday to ensure traffic order and safety in the city.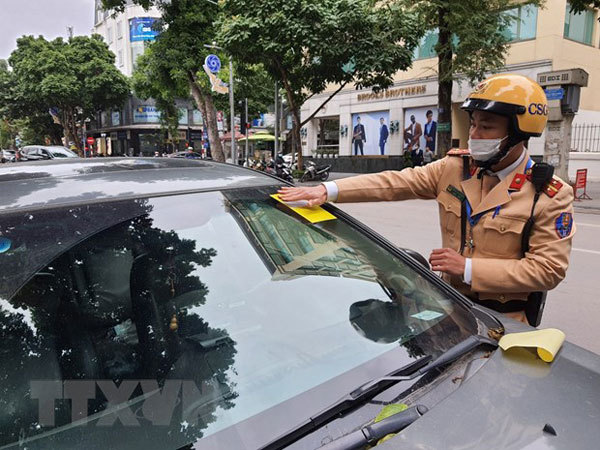 Traffic police stick notice of traffic law violation on the illegally-parking car on Ba Trieu Street in Hanoi. 
At least 166 violation notices were handed out on Tuesday alone, Lieutenant Colonel Tran Quang Vinh of Hanoi Police's Traffic Police Division said.
Colonel Duong Duc Hai, head of the division, said this was one of the solutions to help raise awareness about traffic law compliance and curb traffic congestion.
When a car is found to be parked illegally without a driver inside, instead of towing the car to the traffic police's parking lot as previously, traffic police now take photos as a record of the violation and attach a violation notice on the windshield.
If after two days, the owner does not come to resolve the violation, the traffic police will take stronger measures to force the driver to obey such as sending notices to all local management teams to detect the vehicle on the road.
The notice of violation contains information about the vehicle, the date and location of the violation, and phone number of authorised forces if the vehicle owner needs to make contact.
Traffic police will verify the owner of the vehicle and send a notification paper to the owner.  
The vehicle owner will have two days to pay their fine and traffic police will send information of the case to traffic police in the owner's place of living and force them to pay the fine.
Previously, any car found parked illegally without the driver inside would be towed to a traffic police parking area. The vehicle owner would have to go to a police office to resolve the case.
Police officers will patrol for cars illegally parked on eight routes, including Ngoc Hoi- Le Duan, Quang Trung-Chu Van An, To Huu-Giang Vo, Tran Duy Hung-Van Cao, Nhon-Nguyen Thai Hoc, Nguyen Van Cu-Dang Phuc Thong, Vo Nguyen Giap-Vinh Tuy Bridge and Pham Van Dong-Linh Dam.
Since November 2019, nearly 16,000 illegal parking fines have been handed out after being discovered traffic cameras in the city. Some offenders were recorded to have violated parking regulations 28 times.
Traffic police have found more than 1,200 cars violating the law in the gate of Bach Mai Hospital, collecting nearly VND1 billion (US$43,350).  VNS

Tougher sanctions will be imposed on drunk drivers in last months of the year as more year-end parties are usually organized this time; worse, about 40 percent of drivers drive under the influence of alcohol,
Hanoi Department of Transport has proposed to pilot a ban on vehicles around the Hoan Kiem Lake for a month in order to find better traffic management solutions.