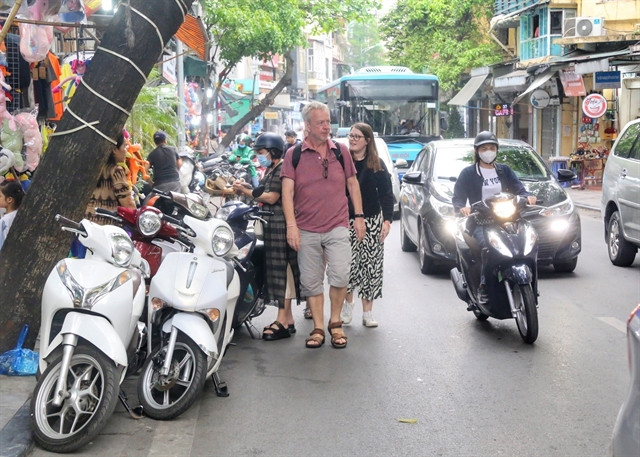 Pavements and roadways encroached for trading activities on Lương Văn Can Street, leaving pedestrians not much space for walking. — VNA/VNS Photo Tuấn Đức
Hà Nội's roadway and sidewalk leasing plan needs to be carefully considered and implemented at a suitable time with high public consensus, said Đinh Tiến Dũng, Secretary of the municipal Party Committee.
Speaking at a dialogue with the city's Fatherland Front on Wednesday, Dũng said Hà Nội will implement the roadway and sidewalk leasing plan and districts' authorities are further conducting the research but "now is not the moment".
He said leasing roadways and sideways needs a legal basis. Hà Nội has asked districts to organise urban design and collect public feedback on the plan.
"The plan will be implemented if it receives high public consensus," he told the meeting.
Hoàn Kiếm District's authorities have examined roadways to put the plan on trial after collecting public feedback, he said.
"Roadways and sidewalks are closely related to the capital's residents, so the campaign of clearing the sidewalks is not effective. The management of roadways and sidewalks needs to be done carefully with high public consensus and having to choose the right time," he said.
Dũng said this is an opportunity for leaders from the city to grassroots levels to listen to residents' recommendations and aspirations.
Sidewalks in Hà Nội have been for years encroached for daily trading activities and vehicle parking, leaving not much space for pedestrians.
It has been five months since Hà Nội started to crack down on the encroachment of sidewalks. However, little results have been done.
The city's authorities have proposed renting sidewalks with the aim of making the streets more beautiful and having more revenue to invest in infrastructure.
The city's police imposed penalties on more than 32,000 cases of urban order violations of urban order with fines of more than VNĐ17.7 billion in the first half of 2023.
The main violations are illegal use of roadways and sidewalks for eatery business and trading. — VNS