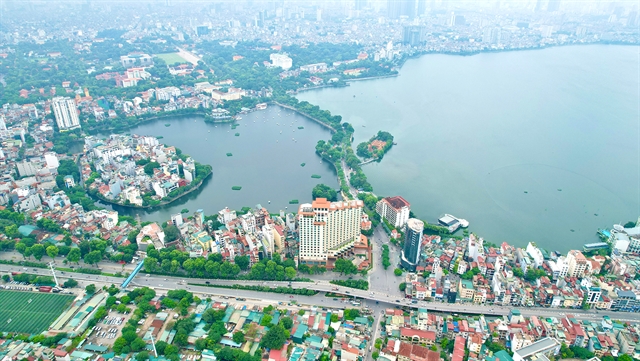 An aerial view of the West Lake in Hà Nội. — VNA/VNS Photo
The Tây Hồ District People's Committee has removed almost all old and dilapidated water vehicles from Hồ Tây (West Lake) in Hà Nội and will now undertake an ambitious endeavour of dredging the lake's bed, enhancing aeration, and introducing innovative aquatic rafts, among other measures.
The district authority also plans to renovate and embellish the infrastructure around the lake, such as installing lighting systems and upgrading promenades and flower gardens.
District leaders say that West Lake is a popular destination for people in Hà Nội and one of the cultural and spiritual symbols of the capital.
The project will be implemented carefully after consulting relevant agencies such as the Việt Nam Institute of Economics, the Việt Nam Academy of Social Sciences and the Việt Nam Architects' Association.
Regarding the city's plan of renovating the landscape and cleaning the water of West Lake, Tây Hồ District has carried out several solutions, including dismantling old boats and floating restaurants out of the lake.
Only one floating restaurant, Potomac, has yet to be removed because it is related to a bank auction. It will be moved out of the lake after the auction is completed at the end of June.
To preserve and promote the potential values ​​and advantages of West Lake, contributing to building the district into a service - tourism - culture centre of the capital city, the municipal authority has agreed in principle to assign Tây Hồ District to manage and exploit the lake.
The Hà Nội Department of Construction was asked to coordinate with other departments, branches and the district to develop and realise the project of West Lake management.
The project has passed three rounds of consultation with departments and branches and is being posted for public comments. — VNS