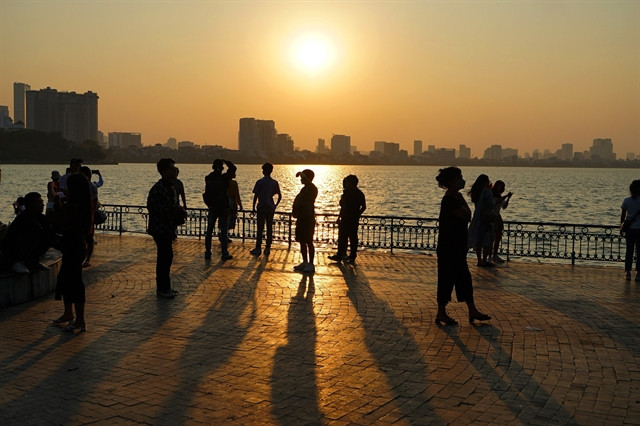 People enjoy a beautiful sunset at the West Lake in Tây Hồ District, Hà Nội.— VNA/VNS Photo
Hanoi's administration has been advised to exercise caution when choosing tourism services to deploy on West Lake in Tây Hồ District to avoid environmental pollution on the lake - the largest green 'lung' of the capital.
The full potential of West Lake has not yet been exploited, but experts and local people have raised concerns with the People's Committee of the city on plans to operate more businesses on the lake.
The draft regulation proposes allowing 12 types of services to be operated on the lake, including tourist boats, canoes and water bike services, transportation of passengers by water vehicles (combining international and domestic travel agencies in the region), Standup Paddle Boards (SUP) boating, kayaking, dragon boating, traditional boat rides, windsurfing and sailing activities, diving and cultural tourism services, water musical performances, hot air balloon rides, fly paragliding, and a golf driving range on the lake.
However, some are concerned the draft regulation allows too many types of services, especially as tourist boats and transporting passengers with water vehicles pose environmental risks.
In the past, tourist boats and floating restaurants damaged the lake's ecosystem and caused serious pollution on the lake.
In 2017, the city administration ordered a complete stop to these businesses.
Đào Ngọc Nghiêm, vice president of the Việt Nam Urban Planning and Development Association, talked to Kinh tế & Đô thị (Economics & Urban Affairs) that the value of West Lake is not only the beautiful natural landscape but also its cultural and spiritual factors.
The lake is a place bearing its own distinctive imprint of Hà Nội, he said.
The lake has increasingly attracted the attention of the people of the capital, as well as domestic and foreign tourists, he said.
Therefore, when formulating regulations on the management and exploitation of the lake, he added that state managerial agencies should not focus on exploiting economic benefits alone but also pay more attention to cultural benefits associated with the lake.
Bùi Thị An, former National Assembly deputy and head of the Institute for Resources, Environment and Community Development, said the lake is valuable in terms of spirituality and is also the city's green lung.
She said the choice of which services should be put into operation on the lake needs to be carefully calculated to preserve the lake's environment.
Without effective management measures, the lake will again be polluted, negatively impacting spiritual values and tourism, she said.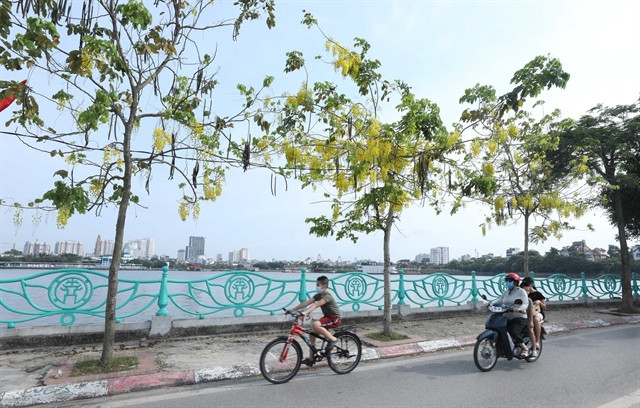 People drive along West Lake in Tây Hồ District, Hà Nội.— VNA/VNS Photo Anh Tuấn
Professor Đặng Kim Chi, one of the first scientists to study environmental protection techniques in Việt Nam, said that the operation of tourist boat service on the lake should be carefully assessed.
Chi said the lake had been polluted and invaded by cyanobacteria, while antibiotics and heavy metals are also found in the lake water.
Hoàng Dương Tùng, former deputy head of Việt Nam Environment Administration, said criteria for environmental and biodiversity protection of the lake should be given priority.
"We should not put economic benefits first," he said.
Chairman of the People's Committee of the district Nguyễn Đình Khuyến said planning, managing, preserving, exploiting and promoting the value of West Lake and its vicinity according to the development orientation of capital of "civilised and modern" is new and especially important content.
Therefore, the district hopes to receive more comments from experts to complete the draft before submitting it to the city, he said.
The district also plans to assess the current status of management, conservation, exploitation and promotion of the values of the lake and its vicinity to identify shortcomings and handle them, he said.
The district will learn from the practical experiences about management, conservation and exploitation of urban lakes in some capitals and big cities in the world, he said.
Tây Hồ District was officially established on December 27, 1995, based on merging three wards of Bưởi, Thụy Khuê and Yên Phụ of Ba Đình District and five communes of Quảng An, Tứ Liên, Nhật Tân, Phú Thượng and Xuân La of Từ Liêm - an old district of the city.
Currently, the Tây Hồ District has 71 historical and cultural relics, including many famous relics such as Tây Hồ Temple, Trấn Quốc Pagoda, Đồng Cổ Temple, Vạn Niên Pagoda and Hoằng Ân Pagoda.
The district is also home to traditional craft villages such as floriculture, ornamental kumquats; traditional peach cultivation and incense making.
The district is famous for many speciality products, for example, Hồ Tây shrimp cake, Phủ Tây Hồ snail vermicelli soup, Tây Hồ lotus tea and Phú Thượng sticky rice. — VNS