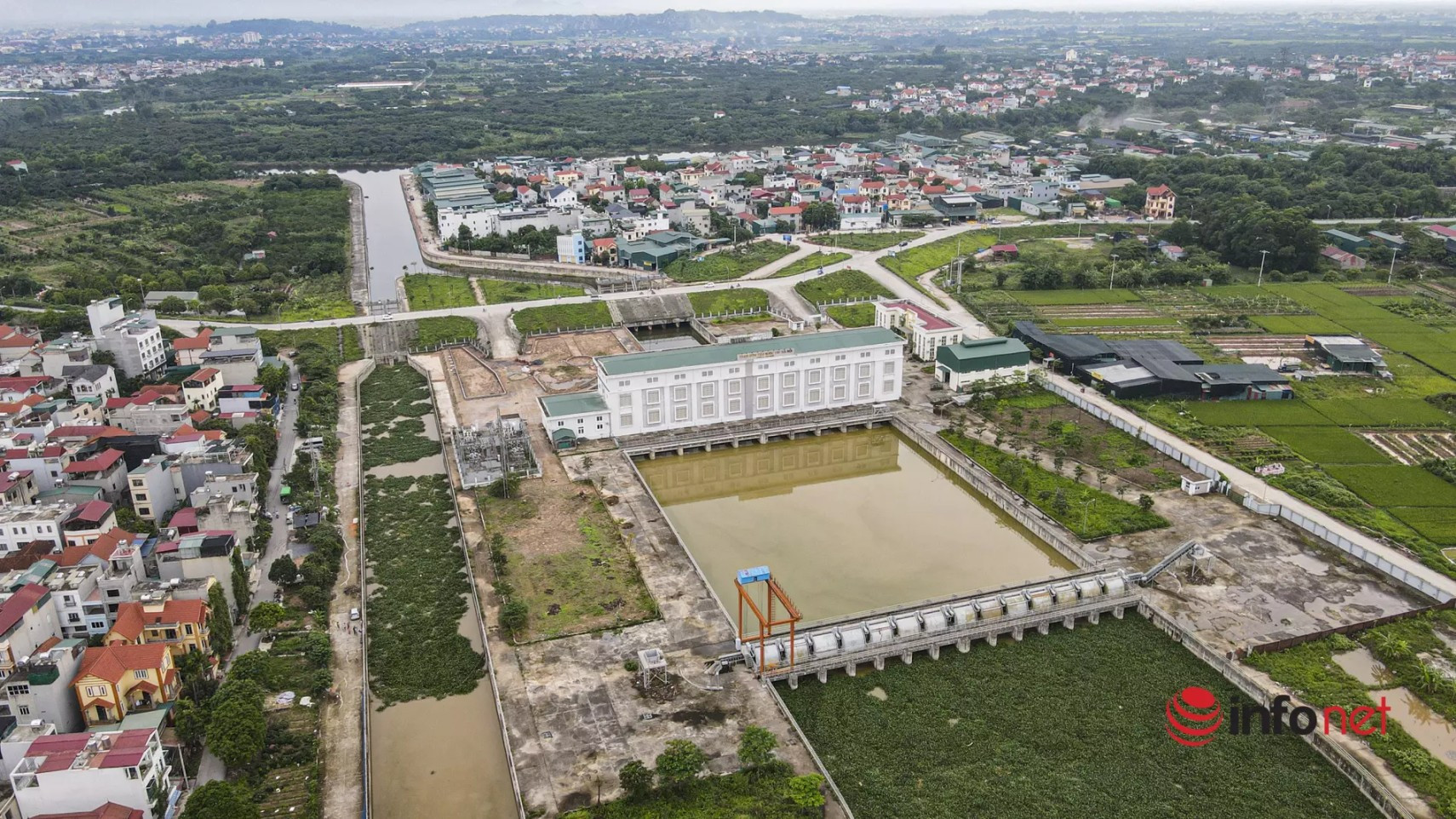 Meanwhile, its anti-flooding projects worth trillions of dong have not been completed over the last 10 years.
The water drainage system of the capital city was built in the first years of the 20th century, used for the inner city area with about 500,000 people. With the strong development of modern urban areas and rapid population increase, the system has become overloaded.
Regarding drainage capacity, the network can only meet rainfall of 50 mm in two hours. In the conditions of 50-100 mm in two hours, the city has 18 flooded areas. And with rains of 100 mm in two hours, the city's drainage system gets overloaded and many more flooded areas appear.
Hanoi for many years has poured tens of trillions of dong into large-scale water drainage projects, including three projects which have been implemented or are under execution – the Hanoi drainage project; Yen Nghia Pumping Station; and Lien Mac complex of focal works.
However, Hanoi still gets flooded whenever it rains.
One month ago, Thang Long Boulevard and many residential quarters in some communes of Hoai Duc district were heavily flooded because of heavy rains and the water level rise at Nhue River.
The area is located near Yen Nghia Pumping Station. The project kicked off 10 years ago and was built to lower the Nhue river water level when it rains. However, the station doesn't work during rains.
The slow implementation of Yen Nghia project, one of the major factors affecting drainage in the western part of the city, was questioned at the Hanoi People's Council meeting on July 7.
With an aim of ensuring drainage for the districts of Ha Dong, Hoai Duc and Nam Tu Liem, and Thang Long Boulevard, in 2013 the Hanoi People's Committee signed a decision under which the Department of Agriculture and Rural Development would implement a project on improving the drainage system in the western part of the city, including the Yen Nghia pumping station, which has the function of pumping floods from Nhue to Day River.
The pumping station has total investment capital of VND4.7 trillion. With 10 units and capacity of 120 cubic meters per second, the station has the largest flood drainage capacity in Hanoi. To date, some items of the projects have not been completed.
Chair of Hanoi Nguyen Ngoc Tuan asked Chu Phu My, director of the agriculture department, when the work will be completed.
My said that once the site for execution is ready, the work will be completed in six months.
Tran Thuong