and ensure safety for pedestrians.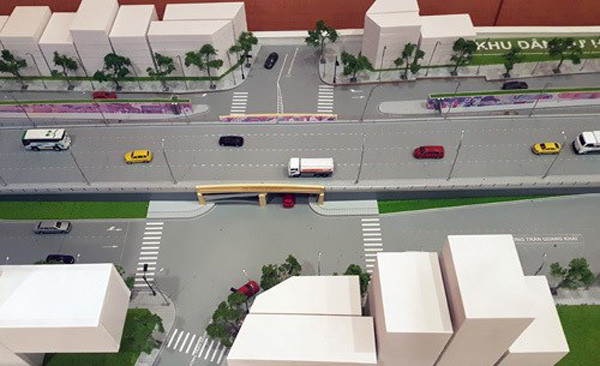 The People's Committee of Hoan Kiem District was assigned to be the project investor, with a total capital of over VND100 billion (US$4.28 million) sourced from the district's budget. The construction is expected to last from 2022 to 2024.
The tunnel, set to be 3.2m high and 15.7m long, will connect Tran Nguyen Han and Chuong Duong Do streets.
Its two doors will be designed to automatically open and close for flood drainage in the storm and rainy season.
The road tunnel through Tran Quang Khai Street has a reinforced concrete structure with an aperture of 18.25m wide, 3.2m high and 15.7m long. The outside of the body walls and vaults are decorated to create an architectural shape suitable for the area's landscape.
The project will also expand two lanes on both sides of the elevated section of Tran Quang Khai Street.
The Hanoi People's Committee asked the People's Committee of Hoan Kiem District to collect opinions from relevant agencies and experts about the project.
It will then report the appraisal results from the municipal Department of Transport to make and submit the design of the project and investment estimate for approval in line with the city's planning while preventing wastefulness.
The municipal departments of transport and construction are responsible for managing the construction quality of the project.
Source: Vietnam News