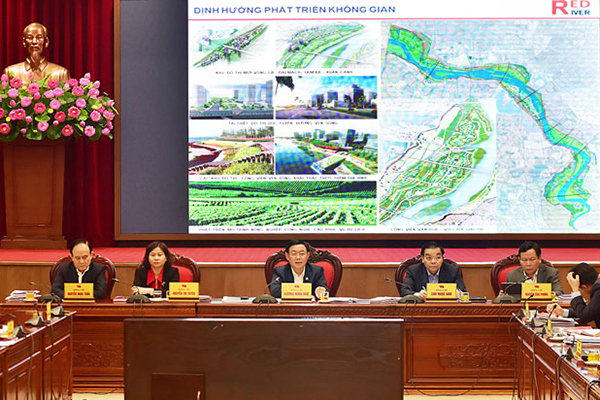 Hanoi is about to approve Red River subdivision planning
The Standing Committee of the Hanoi City Party Committee on March 10 held a meeting to give opinions on the 1/5000 Red River subdivision planning project on a 40 kilometer long river section from Hong Ha Bridge to Me So Bridge, covering an area of 11,000 hectares that includes 55 wards and communes of 13 districts, with the population of 280,000-320,000.
At the meeting, the standing committee listened to reports and opinions after the inspection by the Party Committee's Office and discussed the opinions of the members of the standing committee, with the focus on clarifying important issues, including the environmental impact assessment (EIA) report, economic analysis, cost and benefit estimates, capital mobilization and plan implementation.
The standing committee assignef the Hanoi People's Committee's Party Civil Affairs Committee to guide the completion of the planning, consult with the Ministry of Agriculture and Rural Development on issues related to the anti-flooding and embankment planning, and consult with the Ministry of Construction on the general planning of the capital city.
Director of the Hanoi Institute of Construction Planning Luu Quang Huy said in the past people said Hanoi turned its back to the Red River. But with this planning, Hanoi will face the Red River for development.
Hanoi Party Committee's Secretary Vuong Dinh Hue said the leading urban planning experts the committee has consulted all said the plan is the best ever and it can meet all the requirements to get approval.

Hue said this is the result of the city's political determination to realize capital city planning, orient urban space development, embellish the city, give livelihoods to people, and improve the flood drainage corridor.
In 2016, the Prime Minister approved the master plan for flood control and dike planning for the Red and Thai Binh river systems.
Experts said the main challenges now are climate change and the extreme unpredictable weather.
It is expected that Hanoi will approve and issue planning in June after reaching consensus with relevant ministries and branches.
After the expansion of its administrative boundaries, Hanoi now ranks 30th among the 40 most populous cities in the world. The issues on urban infrastructure development have posed serious challenges for the municipal authorities.
After five years of implementing the city's 16th Party Conference's resolution, the appearance of the capital city is getting brighter, greener, cleaner, and more beautiful, civilized, spacious and modern. 
Huong Quynh

The tugging rituals and folk games were honored by UNESCO in 2015 as an intangible cultural heritage of humanity, a multi-national project of Vietnam, the Republic of Korea, Cambodia, and the Philippines. 

The plan is to supply water from the Red river to improve quality of water in To Lich river which is severely contaminated for years.