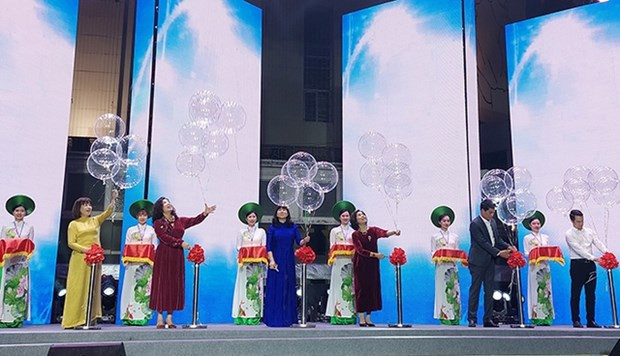 Hanoi hosts 50 tourism promotion events in 2023 to attract more visitors coming to the capital city (Photo: chinhphu.vn)
Several activities will be held during the three-day event, including a seminar on tourism gift manufacturing and development in Hanoi, tourism promotion programmes, a food area, art performances, a photo exhibition and 80 booths introducing unique gift products of tourism gift producing units and businesses, among others.
Besides, festival-goers will also have a chance to capture beautiful photos with thematic landscape photography spaces to promote and honor Hanoi's traditional craft villages such as Phu Vinh bamboo and rattan village, Chang Son paper fan village, Van Phuc silk village, Thach Xa dragonfly village and Bat Trang pottery village.
There will be events in response to the "24h - Hanoi come to love" campaign; a cyclo parade to bring festival gifts closer to tourists on streets; flashmob dance performances and street activities, among others.
The event is expected to stimulate tourism, promote image of the capital city - an attractive and safe tourist destination to draw more domestic and international tourists, and create opportunities for artisans, craft villages and production units to introduce the quintessence of the city's craft village products.
Hanoi capital city is taking measures to bring into full play opportunities brought about by craft villages to facilitate its development, as it accounts for 59% of the country's total number of craft villages.

Currently, craft villages are creating jobs for about 1 million labourers, their production value is about 22 trillion VND (935.9 million USD), and their export turnover, about 200 million USD per year.

To make the most of this advantage, the capital city will build at least one centre for design, introduction, promotion and sale of OCOP (one commune-one product) products of craft villages associated with tourism development, and organise the evaluation and classification of products registered to participate in the city-level OCOP programme in accordance with regulations.

It will implement and complete the goals set out in the OCOP programmes to 2025 of the city and the Government.
According to the municipal Department of Industry and Trade, Hanoi leads the country in the number of OCOP products, with nearly 1,700 ranked from 426 enterprises, cooperatives, and business households in the capital. As many as 80 showrooms for introducing and selling OCOP products have been established in districts and towns, helping widely promote products to consumers and tourists.

Hanoi has recognised more than 2,140 OCOP products, including six 5-star OCOP ones, with more than 800 active trade villages, helping boost economic development in rural areas while generating jobs for local labourers.

The city aims to have an additional 2,000 OCOP products rated three stars and above by 2025./.VNA