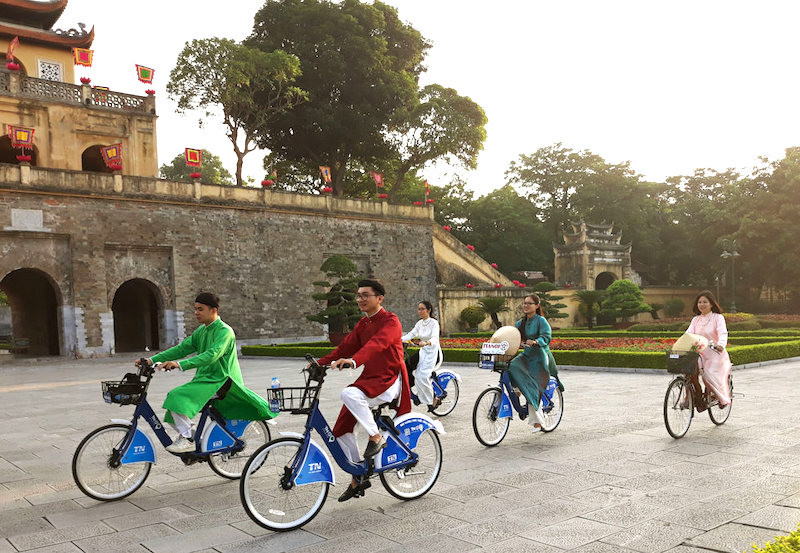 The Hanoi Tourism Ao Dai Festival 2023 will be held from October 13 to 15 in the pedestrian area around Hoan Kiem Lake, with the participation of designers, ao dai brands, traditional craft villages and travel agencies from Hanoi and other provinces and cities.
The Hanoi Tourism Ao Dai Festival 2023 aims to promote travel, attract more domestic and international tourists to Hanoi, as well as preserve and honor the traditional ao dai of the Vietnamese people, according to Dang Huong Giang, director of the Hanoi Tourism Department.
"Through this event, the city's tourism industry hopes to help Hanoi's tourism businesses and Ao Dai fashion artisans and designers work together to strengthen promotion, exchange and cooperation," she stressed.
According to the plan, the opening ceremony of the festival will be held on the evening of October 13 in the pedestrian area around Hoan Kiem Lake, with a combination of music, lights, and performances showcasing ao dai from the north, central, and south regions, including Hanoi, Hue, and Ho Chi Minh City.
Speaking at a conference on September 6, Deputy Chairman of the Hanoi People's Committee Nguyen Manh Quyen emphasized that this activity should be held annually in the future, preferably on the occasion of Vietnamese Women's Day, to provide an opportunity for travel companies to develop specialized tours in Hanoi.
"By organizing tours to ao dai tailoring villages, we create opportunities to attract visitors and increase product sales," he said.
The municipal Department of Information and Communications should to launch a dissemination campaign on the event in districts, towns, and provinces throughout the country, the Vice Chairman emphasized.
The activity is one of the many programs and festivals to promote tourism in the city. The first of a series of events under the "Ao Dai" program was held in Hanoi on September 1. Vietnamese and foreigners cycled through local streets on an autumn morning, exploring the unique beauty of Hanoi.
Hanoi received nearly 2.2 million visitors in August, an increase of 23.1% over the same period last year.
Among these arrivals, the number of international tourists to Hanoi reached nearly 383,000, up 21.5% from the same period last year, while about 1.8 million domestic tourists visited Hanoi, up 12.5%.
Source: Hanoitimes