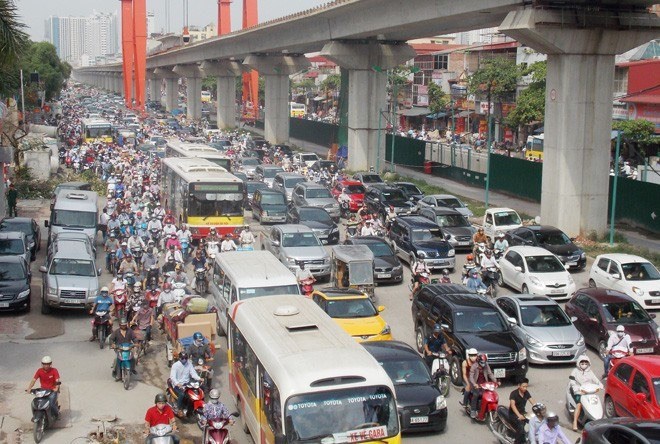 The university relocation will help to ease Hanoi's traffic congestion
Under the Vietnamese college and university network planning for 2006-2016, public universities which cover an area of less than two hectares needed to be relocated out of Hanoi's city centre.
The 12 colleges and universities were set to be relocated to the city's satellite urban areas in Gia Lam, Phu Xuyen and Soc Son districts, Son Tay Town and Hoa Lac area.
The prime minister approved the Hanoi Master Construction Plan by 2030 with a vision until 2050 , which wanted just 30,000 students in city centre areas.
However, so far, only the Hanoi University of Public Health has been relocated.
A representative from the Vietnam National University-Hanoi previously said it was lack of funding that affected the relocation project. The university informed the government of the problem, but to date, nothing has yet been done to deal with the issue.
Development of infrastructure in Hanoi's satellite urban areas has also been limited, discouraging university relocation.
The location will affect university staff, particularly those who live far from universities. So it is essential to have policies to ensure that staff can find housing which is also a difficulty for universities amid a funding shortage, he noted.
The Vietnam National University-Hanoi consists of seven different member universities, so would require a large area for relocation and a 1,000-hectare site in the Hoa Lac area had been allocated. Until now, just a few facilities have been built.
The slow university relocation has partially worsened Hanoi's severe traffic congestion.
Up to seven big universities are located on a kilometre-long stretch of Nguyen Trai Street. Each university has around 10,000 students.
The same situation is also seen at other streets such as Xuan Thuy, Tay Son, Chua Boc, Chua Lang and Giai Phong. Dtinews