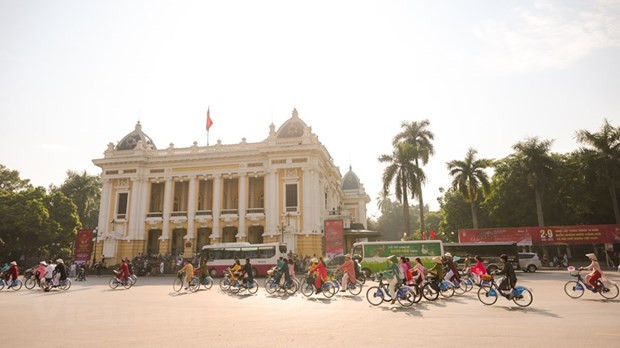 Hanoi Opera House, a tourist magnet in Hanoi (Photo: VNA)
They include 2.79 million international arrivals, soaring 4.6-fold from the same period last year.
Meanwhile, tourism earnings reached 61.6 trillion VND (2.5 billion USD), up 63.1% from a year earlier, statistics show.
The figures have proved the attractiveness of local tourism to domestic and international visitors, as well as the city's efforts to draw tourists back, the department said.
It noted that there are 3,765 tourism accommodation establishments across Hanoi at present, including 603 hotels rated one - five stars with 25,550 rooms. With such a number of accommodation facilities, the capital is completely able to meet travel demand expected to surge in the time ahead.
Occupancy rates at local hotels were estimated at 61.4% during January - August, up 28.5% year on year.
Tran Trung Hieu, Deputy Director of the Tourism Department, said the department will increase advertising of local destinations and new tourism products on both domestic and foreign media in the coming time.
It will also hold more tourism promotion events in such key markets as Northeast Asia, Europe, the US, and India while coordinating with Vietnam's diplomatic representative agencies and trade offices abroad as well as international organisations to step up promotional activities, he added./.VNA