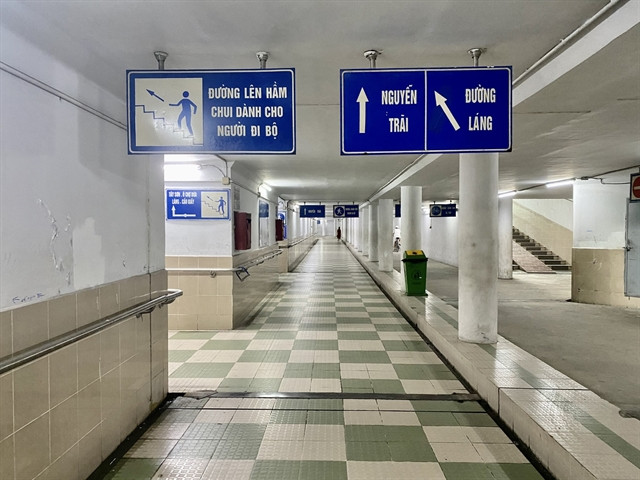 An empty and quiet scene in Ngã Tư Sở pedestrian tunnel.
Underground passages have been built in key intersections of the capital city in order to facilitate pedestrians but in fact, most of them have not been used at full capacity, wasting investment worth billions of đồng.
Hà Nội has more than 39 tunnels for pedestrians located at key traffic crossroads such as Phạm Hùng, Khuất Duy Tiến, Kim Liên, Ngã Tư Sở.
Pedestrians have been indifferent towards pedestrian tunnels for years. Some of them on National Highway No 5 have been closed due to not being used by anyone.
Tunnels on Nguyễn Xiển and Phạm Hùng road, as well as at Ngã Tư Sở Intersection were meant to reduce the number of pedestrians walking on the road, reported Kinh Tế & Đô Thị (Economic and Urban Affairs) newspaper.
The tunnels have two lanes, one for pedestrians and another for cyclists. A lighting system is on all the time and the floors are cleaned every day by sanitation workers.
It is reported by Kinh Tế & Đô Thị that there are not many people going through Ngã Tư Sở Intersection's underground passage. Most of those who do are either exercising or vendors hiding themselves from the sun or rain.
The majority of pedestrians opt for jaywalking through flows of crowded vehicles on the road. Serious traffic accidents among pedestrians have been reported in the city.
Nguyễn Thanh Mai, a resident of Thanh Xuân District, said "It's faster to cross the road instead of walking down the stairs and then going up. There are not so many people taking the tunnel in the early morning or at night so I am somehow worried about using the tunnel that time."
Many people hesitate to use the tunnels as they share the same worry. Others said the underground passages are located right next to traffic lights so pedestrians are confused whether they should just follow the lights or take the pedestrian tunnel.
Nguyễn Văn Nam, a resident in Đống Đa District, said "I often wait for the traffic lights and then follow others to pass the zebra crossings. Not so many people are ready to spend more time stepping down to use the tunnel."
It is more convenient to not build the pedestrian tunnel next to the traffic light systems, he told Kinh Tế & Đô Thị newspaper.
Nguyễn Thái Sơn, a resident of Thanh Xuân District, said pedestrians can't be bothered to walk down the stairs and through the tunnels when they could just use the lights instead.
Other residents reported positive effects from the city's underground passages.
Lê Bá Biểu, an old resident living in Đống Đa District, said "I walk through the tunnel every day to get to Thống Nhất Park for exercises. Some years ago, the tunnel was dark and smelly with lots of waste and needles. This was where drug addicts gathered. But this situation has improved in recent years."
According to urban affairs experts, Hà Nội is moving towards a traffic system that is friendly to cyclists and pedestrians. This ambition will be realised through not only major construction projects but also small but meaningful designs like pedestrian tunnels.
A representative of the city's Traffic Work Maintenance Department said workers are on duty at each tunnel from 6am to 10pm to clean, open and close the tunnel. They are also responsible for coordinating with local authorities to prevent crimes and social evils.
Master of Sociology Nguyễn Văn Dương said in order to encourage pedestrians to use the tunnels, more eye-catching signs should be put up to attract attention.
He proposed installing cameras and clear notice about camera installation at the tunnel door for crime prevention and to make pedestrians feel more secure.
It was also necessary to add other underground utilities such as advertising LED signs, vending machines, communication systems, and danger buttons in emergency situations, he said.
According to Traffic expert Đỗ Cao Phan the location of underground passages is an important factor to determine whether the passage is effectively exploited or not.
Factors such as the slope of the stairs, convenience for children, the elderly, and cyclists must be taken into consideration. There should be escalators for the disabled, people carrying heavy loads or baby strollers, he said. — VNS