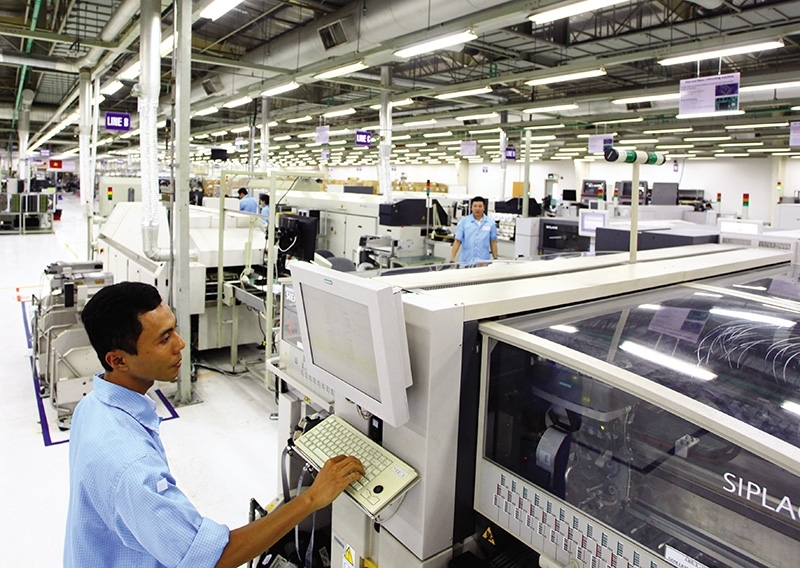 The National Strategy on Industry 4.0 can ensure both business and government fosters digital advances

Just before the Industry 4.0 Summit was held last week in Hanoi, Party General Secretary, State President Nguyen Phu Trong on behalf of the Politburo signed Resolution No.52-NQ/TW on a number of guidelines and policies to actively participate in the Fourth Industrial Revolution, also known as Industry 4.0.
"Active participation in Industry 4.0 is the inevitable objective requirement of special significance for Vietnam to achieve breakthroughs in socio-economic development," the resolution noted.
Under the resolution, Vietnam has set a goal to increase the GDP share of the digital economy to 20 per cent by 2025, and 30 per cent by 2030 when all people should be able to access the 5G service.
The country also expects to become one of the leading hubs for startups and innovation in Asia by 2045.
It aims to increase the broadband internet coverage rate to 100 per cent, and accessible by all communes, as well as raise labour productivity by 7 per cent annually from now to 2025.
Vietnam will try to become one of the three leading ASEAN countries in terms of the global innovation index.
To achieve these targets, Resolution 52 underlines a series of solutions, such as the development of IT, electronics and telecommunications, cybersecurity, smart manufacturing, finance and banking, healthcare, education and training, digital agriculture, and especially e-commerce.
E-commerce development
At the Industry 4.0 Summit, Resolution 52 was highlighted as a strong determination of the Party and the state in pursuing Industry 4.0 via the significant change in mindset and actions.
"Vietnam boasts immense potential for e-commerce development, and Resolution 52 will help us further tap into such potential via upcoming policies from the government," said Dang Hoang Hai, general director of the Ministry of Industry and Trade's Department of E-commerce and Digital Economy.
"Success in e-commerce development will also help Vietnam soon reach its goals within Industry 4.0 and successfully develop its own digital economy."
According to him, currently there are over 24,000 websites with e-commerce applications in Vietnam, where there are over 143 million mobile phone subscribers, 62 million internet users, and 72 per cent of the country's population are using smartphones.
"All these show great potential for Vietnam to develop its e-commerce industry, which is now considered the biggest highlight in the country's drive to Industry 4.0," Hai said.
According to the E-Commerce Whitebook released two weeks ago by the Ministry of Industry and Trade, the total value of the Vietnamese business-to-consumer e-commerce market hit $8.06 billion last year, up 30 per cent on-year.
The figure is expected to soar to $33 billion by 2025, ranking third in Southeast Asia after Indonesia ($100 billion), and Thailand ($43 billion). About 70 per cent of all e-commerce activities take place in Hanoi and Ho Chi Minh City, as well as in other provinces such as Bac Ninh, Vinh Phuc, Dong Nai, and Binh Duong, and centrally-ruled cities including Haiphong, Danang, and Can Tho.
The whitebook also showed that 61 per cent of clothes, footwear, and cosmetics were bought online, while online transactions for home appliances and food accounted for 46 and 34 per cent, respectively.
The whitebook also revealed that 64 per cent of the respondents said they bought goods on international websites.
According to Deloitte, one of the world's largest professional services network, amid the proliferation of physical channels, digital platforms are also emerging in the retail market, with players such as Adayroi, Lazada, Shopee, and Tiki leading the pack. The growth potential of Vietnam's digital retail market has also captured the attention of several e-commerce giants, with Amazon launching an initiative with the Vietnam e-Commerce Association to provide e-commerce services to a group of 140 local businesses.
Founded in 2010 as a web-based book retail business, Tiki has since expanded its offerings to a wider range of products, including home appliances, and electronic and healthcare products.
In March 2017, Tiki announced that it would be transforming its business model from a business-to-customer platform to a business-to-business-to-consumer platform.
This strategic shift appeared to be well-received by investors: following a $50 million investment from JD.com at the end of 2017, Tiki received another $10 million from STIC Investments early last year.
"Vietnam has become an attractive spot for e-commerce development, with many types of firms engaging," said Tran Hai Linh, CEO of Sendo Technology, which has over 10,000 buyers nationwide.
"E-commerce development is laying firm groundwork for Vietnam to successfully develop its digital economy."
Industry 4.0 strategy
Rachel Barger, chief operating officer of multinational software corporation SAP Asia Pacific Japan, cited a PricewaterhouseCoopers survey recently stating that Vietnam may become one of the top 20 largest economies globally, and one of the top 10 largest economies in Asia by 2050. According to Barger, one of the biggest foundations for this is the strong development of e-commerce.
"But how can Vietnam transform its digital landscape for further development? The transformation needs to be conducted at the government and business levels," stated Barger, adding that SAP has been co-operating with about 500 businesses in Vietnam over the past few years.
In fact, Resolution 52 advises the government to lead the construction and implementation of the National Strategy on Industry 4.0, and other schemes on national digital transformation and participation in the Fourth Industrial Revolution.
The strategy will help Vietnam improve its competitiveness, attract more high-quality foreign direct investment, and ensure sustainable growth, according to the Ministry of Planning and Investment (MPI) which drafted the strategy.
Under the latest draft, the sectors that will be improved with high technologies include public administration, electricity-water, healthcare, education, processing and manufacturing (especially footwear, textiles and garments, and foodstuffs), agriculture, logistics, commerce, ICT, and finance and banking.
The technologies that will be prioritised for development include 5G and post-5G, AI, blockchain, cloud computing, the Internet of Things, cybersecurity, and renewable energy.
In order to develop these, besides continuing administrative reforms, the government will beef up revising laws and regulations, especially those regarding venture capital, angel investment, with maximum favourable conditions to be created for investors to conduct mergers and acquisitions, and capital contributions, as well as apply high technologies.
"There will be special incentives for investment projects that create products and services using Industry 4.0 technologies, especially joint ventures with domestic enterprises," stated the draft strategy.
Jeff Paine, managing director of the Asia Internet Coalition, told VIR that the strategy "will secure Vietnam's strong competitive regional position in coming decades. According to the Central Institute for Economic Management, which examined the impact of the draft strategy, Industry 4.0 transformation will likely raise Vietnam's GDP by $28.5 billion to $62.1 billion, equivalent to a rise of 7 to 16 per cent, from now to 2030."
According to Paine, leading global technology companies have traditionally chosen Vietnam as a place to build major manufacturing facilities that supply equipment and products to the world, creating more jobs and developing human capital.
"Today, we are seeing a shift higher up the technology value chain, to software development and digital application-based services. These foreign investments are critical to Vietnam, especially for transfer of knowledge and international best practices, which will support the development of a domestic ICT industry that is globally competitive," Paine said. VIR
Thanh Dat

The Politburo's Resolution No 52 set a goal that Vietnam's digital economy would make up 20 percent of GDP by 2025.

With its great potential, Vietnam is marching towards becoming a modern nation with a digital economy amid the Industry 4.0 unfolding far and wide, which has major impacts on the business community.