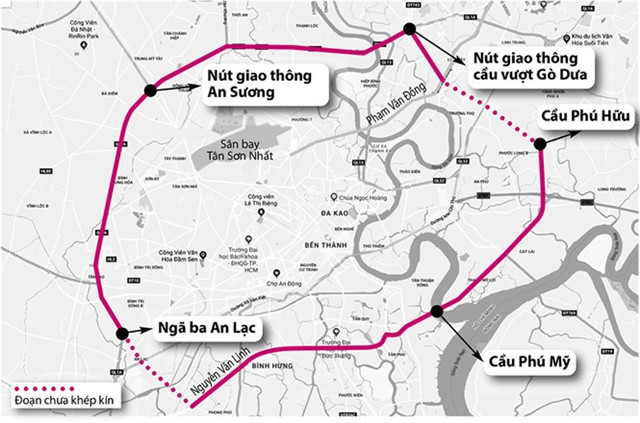 A map shows the direction of the Ring Road No. 2 project (red line) in HCM City. — Photo courtesy of the HCM City Department of Planning and Architecture
Chairman of the HCM City People's Committee and head of the city Appraisal Council Phan Văn Mãi has approved the project's pre-feasibility study report on the section from Phú Hữu Bridge to Võ Nguyên Giáp Street in Thủ Đức city, at 67m wide.
This section is part of an 11.3 kilometre stretch that has yet to start construction, and is in the process of preparing procedures for implementation.
The Appraisal Council has asked the city's Department of Transport to coordinate with relevant agencies to review and update documents for submission to competent authorities to decide on the section's investment policy.
The section will have six lanes and an overpass under Metro Line No. 1 that is still under construction.
It covers an area of 47ha, affecting nearly 590 households.
Its construction is expected to start in the second quarter of 2025, and be completed in the fourth quarter of 2026.
According to the city's Department of Transport, the entire Ring Road No. 2 will be more than 64km long. Around 50 kilometres has received investment so far.
Ring Road No. 2 is expected to reduce traffic congestion and the number of vehicles entering HCM City.
As the road is linked to the HCM City-Long Thành–Dầu Giây Expressway and Ring Road No. 3 and Ring Road No. 4, this essential road will help form a connecting route between neighbouring provinces and minimise congestion at the city's entrances.
The waiting time for site clearance for the project has been two to three times longer than expected, according to the transport department.
The project was scheduled to be completed in 2015. The delay has contributed to worsening traffic congestion in the city as well as between the city and southern provinces.
Municipal authorities are determined to speed up this project. — VNS