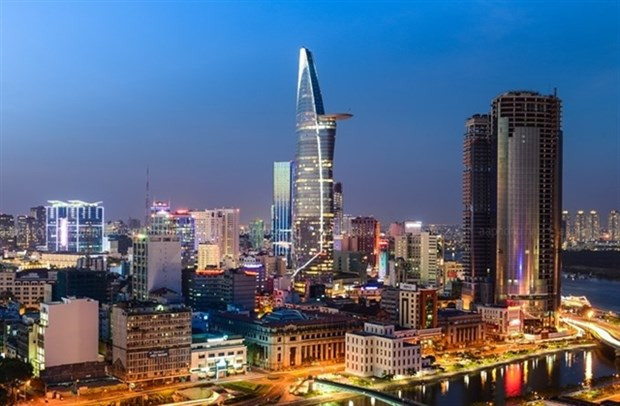 A view of HCM City at night. The city is expected to face economic headwinds during the rest of this year. (Photo: VNA)
It was only 0.7% in the first quarter.
Speaking at a meeting on May 39, Phan Van Mai, Chairman of the municipal People's Committee, said the city's economic growth in the first half is expected to be 3.55%.
Public spending in the first five months is expected to be worth 10.2 trillion VND (436.4 million USD), up 24% year-on-year, he said.
The global economic decline and high inflation will continue to affect the city's economy across the board, hindering its recovery, he said.
In May, the index of industrial production (IIP) rose by an estimated 1.5% month-on-month and 5.5% year-on-year.
It was up 1.6% year-on-year in the first five months.
The services sector is expected to post the highest growth rate in the second quarter of 7.6%.
Retail sales of consumer goods and services rose by 10% in May and 6.2% in the first five months.
Headwinds ahead
Experts have warned the city would continue to face headwinds for the rest of 2023 due to the impacts of the global recession and inflation.
The city's real estate, stock and bond markets have slumped, they said.
Many firms lack export orders, and the situation is unlikely to improve this year.
Many have also complained that while the central bank has steadily cut rates, bank lending interest rates remain too high.
The country's largest city has lowered its growth target for 2023 to 7.5-8% from 9% last year.
Vietnam's GDP growth slowed to 3.32% in the first quarter, the second lowest rate in 12 years./. VNA